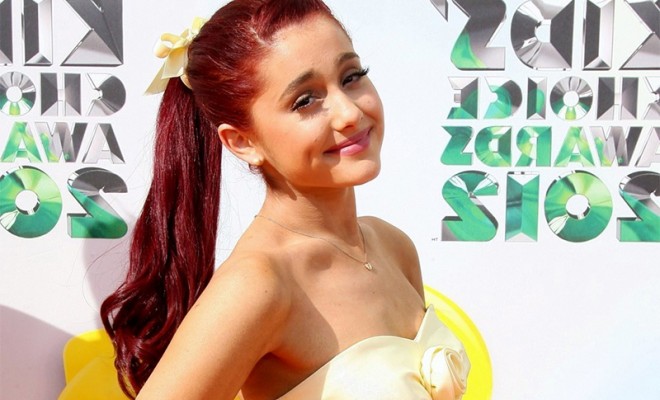 Hair Styles
The Hairstyles of the Stars of Nickelodeon
By
|
Ariana Grande-Butera, otherwise known as Ariana Grande, is an American singer and actress. The precocious child performer of the trade mark "half up, half down" long tresses, Ariana Grande hairstyle has worn that look at least since she sang at a karaoke lounge on board a cruise liner when she was just eight. At 21 today, she is loath to change it.
Her early performances in Kindergarten and Grade 1 included the musicals "Annie," "The Wizard of Oz" and "Beauty and the Beast" at the Fort Lauderdale Children's Theater. In her middle grades, Ariana was mature enough to go on stage with South Florida's Philharmonic, Florida Sunshine Pops and Symphonic Orchestras. She also caught national attention performing "The Star-Spangled Banner" for the Florida Panthers.
Ariana was impatient to make it on the national music scene. At 14, the young lady wanted to cut an R&B album. Meantime, she gained the supporting role of cheerleader Charlotte in the musical "13" on Broadway and was good enough to win the National Youth Theatre Association Award.
Nickelodeon: When Hairstyle First Came into the Picture
By the time Ariana auditioned for Nickelodeon's "Victorious" at 16, she still held on to those luxuriant "half up, half down long tresses. Cast as Cat Valentine in the sitcom set at a performing arts high school, it took executive producer Dan Schneider to assert that flaming red would suit the character better. Besides, everyone else came as brunette. In the next two years, the sit-com debuted with 5 and the 6 million live viewers.
The success of "Victorious" made it a natural for production work meant to strengthen her vocal range. The take-offs were the track "Give It Up" on the soundtrack "Victorious: Music from the Hit TV Show" in August 2011. At the same time, Ariana pursued her musical aspirations by singing covers of songs by Adele, Whitney Houston and Mariah Carey and uploading them to YouTube.
These impressed CEO Monte Lipman of Republic Records enough to offer a recording contract. Though Ariana hated the bubble pop sound of her first single, "Put Your Hearts Up", it was later certified gold by the RIAA.
The End of Nickelodeon
Subsequently, Nickelodeon created an iCarly and Victorious spin-off starring Jennette McCurdy and Ariana. In the buddy sitcom, titled "Sam & Cat", the two are paired as roommates who form an after-school babysitting business reprising their respective roles as Cat Valentine from Victorious and Sam Puckett from iCarly. Though ratings were good and the show was planned for a forty-episode run, it was eventually canceled. The final episode aired on July 17, 2014.
A second take-off, "Victorious 2.0" was launched on June 5, 2012 as an extended play, with Ariana doing "Don't You (Forget About Me)". In mid-season, the singer reprised "Victorious 3.0" with Grande and Victoria Justice performing "L.A. Boyz" in front of their cast mates. Ariana also did "Popular Song", a duet with British singer and songwriter Mika, at end-2012.
Some plaudits she has snagged include "New Artist of the Year" at the 2013 American Music Awards, the Music Business Association's "Breakthrough Artist of the Year", "Best Pop Video" at the 2014 MTV Video Music Awards, "Best Song" and "Best Female" at the 2014 MTV Europe Music Awards, and two Grammy Award nominations for Best Pop Vocal Album and Best Pop Duo/Group Performance.
Stellar singer that she is, Grande boasted top billing on the US Billboard 200 with 2013's "Yours Truly"; the lead single, "The Way", became a top ten hit on the Billboard Hot 100. Ariana also enjoyed 34 continuous weeks in the top ten of the Billboard Hot 100 and garnered the most top 10 singles of any artist in 2014.
Copying That Sensational Hairstyle
In recent months, Ariana has sported a prettily sophisticated bun in medium brown, totally an updo but without the long tresses.
An appearance at Cirque le Soir nightclub in London has Ariana sporting her trademark up and down high ponytail in medium brown and waist-length extensions. On arriving at Heathrow, Ariana sports pure medium brown with high and medium ponytails and long straight hair.
Ariana is seen arriving and rehearsing for the Much Music Video Awards in Toronto on June 14, 2014. Her hairstyle is medium brown with light brown extensions, half-up and half-down in a long and wavy Ombre look.
The longest hairstyle Ariana ever sported was at the MTV EMA's held at the Hydro in Glasgow in November 9, 2014. There was no mistaking the medium brown flat-ironed with a side part, light brown extensions and long straight Ombre look.
Earlier this year, Ariana goes into Taylor Swift's building in New York City, displaying completely dark brown hair, straight and waist-length with her trademark high and mid-point ponytail extension.
During the holidays late last year, Ariana Grande sings on the catwalk at the Victoria's Secret Fashion Show 2014 in London. The halter top-bra may have been optional but not the combination of medium and light brown half-up and half-down, Ombre long straight hairstyle.
For an interview in March 20, 2015 at the Tonight Show Starring Jimmy Fallon, Ariana Grande's half-up half-down ponytail was very much in evidence. All her tresses were dark brown, half-up and half-down with a high ponytail and straight in a luxurious fall to waist-length to hide a daring top.