2023. Prices may vary by location and are updated frequently.
Item
Price

Men & Women

Adults & Teens

Haircut (Per Person)
$15.00
Shampoo (Per Person)
$5.00

Children (10 & Under)

Haircut (Per Child)
$13.00
Shampoo (Per Child)
$5.00

Seniors (65 And Over)

Haircut (Per Senior)
$13.00
Shampoo (Per Senior)
$5.00

Style

Formal (Per Person)
$50.00
Long (Per Person)
$30.00
Regular (Per Person)
$20.00
Bang, Neck or Beard Trim (Per Person)
$5.00

Other Services

Bang, Neck or Beard Trim
$6.00
Conditioning Treatment
$14.00
Disclaimer: PriceListo gathers actual pricing information from sources such as on-site visits, business websites, and phone interviews. The prices reported on this webpage derive from one or more of those sources. Naturally, the prices reported on this website may not be current, and may not apply to all locations of a given business brand. To obtain current pricing, contact the individual business location of interest to you.
Great Clips prices provided by
PriceListo
.
About Great Clips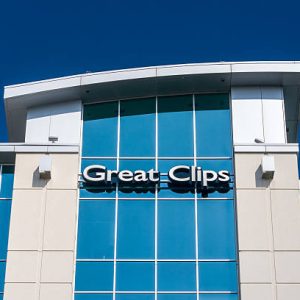 When the topic of salons comes up, Great Clips will, without a doubt, be one of the first things that will come to mind for most people. Why not when it's the biggest salon chain in the US? With 450 all-franchise locations in the US and Canada, they're certainly among the most popular and widely available haircutters in North America.
Great Clips offer a wide range of services that are focused on improving the appearance of your tresses. Their name might make them seem like they only do cuts but they also offer lots of other services like beard, bangs, and neck trimming, perming, and styling. They also provide shampoo service and conditioning treatments, as well as sell specially formulated hair products. They cater to folks of all ages, too, so it's a convenience go-to choice for many.
With their great accessibility, variety of services, and friendly prices, Great Clips is practically the household name for any hair needs today. If you wish to know more about the brand, read on.
How much does a haircut cost at Great Clips?
So let's get one of the most important details out of the way first: how much does a haircut cost at Great Clips? The ballpark figure would be about $13 to $15 in most locations, depending on the age of the client. Kids and seniors are charged less while adults are charged the regular rate. Trims are way cheaper at around $6, so if you don't need a full haircut or you just need some grooming, this might already do.
However, it's important to note that pricing tends to vary slightly from one location to another. This is largely because Great Clips salons are all franchises so salons get to base their pricing on the local going rates and other factors. For exact figures, it's best to check with the local Great Clips location.
Other services like hair styling and treatments are priced slightly higher than haircuts. Conditioning and shampooing treatments are at around $14 but styling can range from $20 to $50, depending on the hair length. Again, these prices are estimates only as it can still vary from one location to another. If you're on a budget, it's best to check with the Great Clips near you for the exact prices.
How much should I tip at Great Clips?
Like with other services that you'll get, tipping is also a good thing to do after you get a haircut. This should be a fact but it's still somehow confusing for some, especially if they're visiting a chain like Great Clips. With small, independent salons where hairstylists are basically contractors, tipping feels necessary as the stylists are not getting a wage. But since Great Clips actually hire hair stylists, some people think that they don't need the tip.
While clients can skip tipping if they wish to, it's still a very good gesture to do so, especially if the service was very good or satisfactory, if they handled your kids well, if they did you a nice favor, and many other things. Despite the regular pay, getting a haircut is still a service provided to you by trained hair stylists, so tipping will be greatly appreciated.
There's no specific required amount for tipping at Great Clips or anywhere else, really, since that's how the concept of tipping works. However, the general consensus is to tip at least $5 for a haircut. With how affordable the haircuts are at this chain, it would be a nice gesture to give a little extra directly to your hairstylist. For other services, the amount is up to you and how you assess the output and the experience.According to general conce
Does Great Clips have any coupons or discounts?
The fact that you're eyeing Great Clips for some work on your locks is a good sign that you look for great value when you intend to spend money. With this chain's fantastic prices and dependable services, it surely promises to give you a great bang for your buck. However, you can make more out of your spending at this salon chain, thanks to their coupons, discounts, and promotions.
For starters, the chain launches many different promotional events that are aimed to provide discounts from time to time. These can apply to their services or products on sale. Most of the time, these promotions are based on a national holiday or major occasion that could be rolling around. They also have a permanent promotion for seniors which gives them a $2 discount on haircuts all year round.
Coupons are also available for select Great Clips services. You can find these where coupons are made available – coupon sites, apps, and periodicals.
However, it should be noted that there are limitations to the coupons and discounts that the chain offers. Not all locations participate in the promotions and there are regional geographic restrictions to most coupons. Some locations might also offer special discounts that you can't avail of elsewhere.
These are possible because Great Clips has a franchise-only setup, meaning they do not have corporate-owned locations. They take pride in having all of their locations locally owned and managed which also contributed to their enduring success.
What this means for bargain-hunters, however, is that they should make sure to read the fine print before trying to use the coupon they found. Again, most of these discounts have geographic limitations so check first which locations will accept them. If you have doubts, you can also call the Great Clips near you to check if the promotion is available in their location.
How long does a haircut take at Great Clips?
This may be a seemingly innocent and straightforward question but it's a topic that a lot can be said. It can say a lot about the work ethic and the techniques of the chain. It's also a very compelling point of comparison between affordable and high-end salons.
To answer the question directly, haircuts at Great Clips only typically take 20-30 minutes to finish. However, this isn't always the case since there are lots of factors that come into play. For some technical cuts can only take up to 10 minutes, especially if there's not a lot of shaping required. Hair stylists tend to take longer if there's a lot of hair to cut off and if the style is very particular and detailed. It also depends on the client's behavior during the process whether the cut will take a while or not. Kids can take longer to give a haircut to as they can get fussy and uncooperative if they're unfamiliar with the entire process.
As you may notice, Great Clips haircuts don't take a lot of time so they're great for those with very busy schedules. However, this shouldn't equate to a lower quality output. Don't think that because these haircuts take a short time does it mean that the hair stylist is cutting by the number and doesn't take care in their creation.
While most hair stylists that work for chains strive to make a quick turnover and process more clients, it really doesn't mean that their speed sacrifices quality. At Great Clips, there's a quality control process so you can be sure that their output is rushed or reckless.
Also, some haircuts really don't have to take too long to complete, so why dally when there's a line of people waiting to be serviced, right? Veteran hair stylists have also already developed and devised their own tricks and techniques to be more efficient, so quick haircuts don't have to be too shocking.
It should also be noted that while haircuts can take a mere few minutes, a trip to your local Great Clips might take way longer. Queues can make your visit longer, so if you didn't use their Check-in service, you might need to wait for a hair stylist to become available. The waiting times can vary depending on how busy the location is so using the Check-in feature of their app will come in handy if you do not want to spend time waiting in their lobby.
What time is Great Clips open for business?
If you're going to avail of Great Clips' services, another crucial bit of information you need is their operating hours. Unfortunately, this bit of information is not as straightforward as many would like as their operating hours tend to vary from one location to another.
In general, however, locations can open as early as 8 am or as late as 12 noon. Busier locations tend to open earlier but a large majority of them open at 9 am. Closing times vary as well as some close at 6 pm while others can provide services up to 8 in the evening.
To ensure that you can get a hair service on your visit, check the operating hours of your nearby Great Clips location beforehand. You can do this by visiting their website or using their app to check the details of their locations near you.
Should I do Walk-in or Online Check-in when getting a haircut at Great Clips?
Given the current situation, this is a crucial question to ask and find answers to. It can help you observe safety as it can limit your exposure to others and it can also make you very efficient. Either way, it can help you avoid having to idly spend time waiting in line when you can be off elsewhere doing something else.
Unlike other salons, Great Clips created their Check-in service instead of taking appointment bookings. While it sounds like the same thing to some, it's a bit different as it will not allow you to schedule an appointment days in advance. Instead, it will let you check how busy the locations near you at the moment. It's more of a queuing feature as it will allow you to put your name on the list of the customers lining up to get a service and notify you of the estimated wait time until your turn.
How it works is that you'll select the location you want to visit and the website or app will give you the current estimated wait time if you choose to check in. This wait time can vary greatly, sometimes it can take an hour or so but it will rarely take too long that the service will become unavailable. You'll always get an estimate when you log in and it's up to you whether you want to wait that long or if you wish to go to a different location with a shorter wait time.
Once you've chosen your Great Clips location, you can then check in by providing your name and phone number. You'll then be informed of your updated estimated wait time and off you go to the salon if it's nearly time or go do something else first before you head out.
While the Check-in feature will not let you schedule your salon trip days in advance, it's still a good way to plan your visit to Great Clips on the same day as the estimated wait time can give you a good time frame of when you can be attended to. It will let you avoid waiting in the lobby and do other things before you get your haircut, trim, or treatment. It can also let you commit to the appointment better since it will allow you to get your hair done on the same day without any hassle. There's less time to change your mind and it's less likely for something unplanned to come up to prevent you from getting to your booking.
Further increasing the convenience of the Check-in feature is the fact that you can do it either on the app or through the website. This means that you don't have to download the app if you don't want to and you can still virtually queue. It's also very easy to use so you don't have to worry about fussing over their app or website just to get yourself on the list.
Walking in is also still an option at this chain so if you decide to head to the Great Clips in your neighborhood at the last minute, you can definitely do so. Again, as mentioned above, booking an appointment is not required and the use of the Check-in service is not mandatory.
Should you opt for a Walk-in appointment at Great Clips instead? This is definitely up to you. If you don't mind idly waiting with a few other people in the lobby of your neighborhood location, then you can definitely opt for that. It's not ideal if you want to limit your exposure to other people in an enclosed space but you are welcome to wait if you wish to.
If you know your neighborhood location well and you're familiar with their busiest times of the week and you're flexible enough to avoid them, walking in would also be a good option. Doing this might allow you to squeeze in some me-time in your busy schedule.
It's important to note that the Check-in service is not applicable for perms and formal updos. This is because not all locations offer such services and those who do typically require appointments for them. This means that you also cannot opt for such services if you're a walk-in client and that if you need formal styling and perming, you should call your preferred Great Clips location to book an appointment.
Do I need the Great Clips app?
If you haven't heard of it yet, Great Clips is also making use of technology to provide better services to their clientele. They created the Great Clips app primarily for their Check-in service which is why it's also known as the Great Clips Online Check-in app in the Android Play Store and the App Store.
The app is pretty straightforward in design and functionality, doing a number of things. First off, it allows you to view the estimated waiting time in the Great Clips locations near you. It will use the location of your mobile device to search the nearest locations where you are and then give you the waiting times on each location so you can choose where to go to. If you don't want to wait long, you can select the location with the shortest waiting time. If you need more time to get ready for your appointment, you can select a busier location.
Once you select where you want to go, you just need to Check-in by providing your name and contact number. You can also enter the number of guests that will be present during the visit so the location can expect to provide service to more than one client. You'll get an estimated wait time information again.
In addition to the Check-in feature is the ReadyNext™ feature. This is a text alert service that you can opt for during check-in to inform or remind you of your appointment when the waiting time reached 15 minutes. This will help you get to your booking in time, keeping you from waiting at the lobby and allowing a smooth transition inside the salon.
To make things more convenient for you, the app will also let you save your favorite Great Clips locations. This will give you easier access to their information the next time you need to get your hair done.
So should you download it? It's up to you. It's a handy tool because you can only do Check-ins on the website. The other features are exclusive to those who will download and create a profile in the app. If you tend to make regular trips to Great Clips, this tool can be very useful to you, however.
What are the health and safety protocols Great Clips have in place?
With the pandemic putting the public in danger, it's necessary for all businesses to take measures to ensure that their staff and clients are safe. Great Clips launched the GreatCare Promise for this purpose as a way to establish the steps they are taking to prevent the further spread of the virus. This is of utmost importance as salons are believed to be among the top places where the spread of the coronavirus is easiest due to the close contact that is necessary between hair stylists and clients.
As all Great Clips locations are franchised and independently operated, there may be a few differences in the protocols locations have in place. All of them are designed to meet the local government and CDC recommendations so there's no need to worry.
Generally, however, these are the guidelines that all locations have to follow:
Tools and salon chairs are sanitized every after use.
Salon chairs are spaced farther apart to ensure social distancing.
Touchpoints are sanitized regularly.
Items that can become touchpoints are removed from the lobby and other shared areas.
Stylists are required to sanitize and wash their hands more frequently.
Masks are required to be worn by both the stylist and client. To ensure a seamless service, clients are asked to wear masks with ear loops so their hair will be unobstructed.
What are Clip Notes?
Clip Notes is another piece of technology that Great Clips is using to further improve their services. In the simplest of terms, this is a client information database where hair stylists can log in the details of your preferences. As a result, you don't have to work with just one hair stylist to get the exact cut or style that you want. Any other Great Clips hair stylist can do it for you without too much fuss as they can easily learn what you want.
One of the top reasons why people spend lots of money on hair care is so they can work with a good hair stylist who can remember what their hair needs and how they want to do with their tresses. While you can definitely request a specific hair stylist to do your hair at Great Clips, it can still be a bit inconvenient as you will still need to work with their schedule. It tends to defeat the purpose of going to an affordable place for a quick haircut.
With Clip Notes, however, you can just go to any Great Clips location and ask for your desired haircut. Since the program is cloud-based, you don't have to stick with just one location to ensure that you'll get the haircut you want. Hair stylists from various locations can have access to your details and they can use that to give you consistent service. That's an awesome deal for the rates at this chain, if you'll really think about it.
To set up an appointment with Great Clips, please visit their official site at www.greatclips.com.
Great Clips YouTube
Great Clips FAQ
How much are haircuts at Great Clips?
Adults & Teens – $18 per person.
Children (10 & Under) & Seniors (65 And Over) – 16$ per person.
How much is shampoo at Great Clips?
How much is formal style at Great Clips?
Formal Style – $65 per person.
How much is a men's haircut at Great Clips?