Ariana Grande Nails This website is not associated with Ariana Grande
Ariana Grande is still a pretty young singer which probably explains why she is very adventurous and creative in many ways. She is not only admired by many for her beautiful voice, beautiful face and body but also her very cute nails as well. With the very colorful nail polish that she wears during her appearances on TV, we cannot help but get inspired by how creative her nails were done. She looks very cute wearing those nails in different colors! Also, she is fond of using sweet candy cane colors and sometimes with little rhinestones as an embellishment.
Now, teenagers are eager to know, how are they are done. There are a lot of tutorials that can be found online while here are some tips that you need to take note when trying to get the exact look of Ariana Grande Nails.
Below are the most popular Ariana Grande nail styles:
Shape
Color
Design

Nails

Round
Pink
No
Round
Gold
No
Almond
White
No
Almond
Blue/White
Yes (Glitter)
Round
Red/Green
Yes (Strawberry)
Round
Pastel Pink
No
Stiletto
Black
No
Choose The Right Color
Ariana is a sweet-looking teen and usually chooses colors that fit her image. She often uses pink, and gold nail polish. Sometimes, she also opts for pastel colors. And most of the time, her nails are multicolored!
Ariana enjoys her young age and enjoys the sweetest colors in her nails as much as possible. However, the colors she wears do not fit everybody so make sure to choose one that is safe and matches your skin color.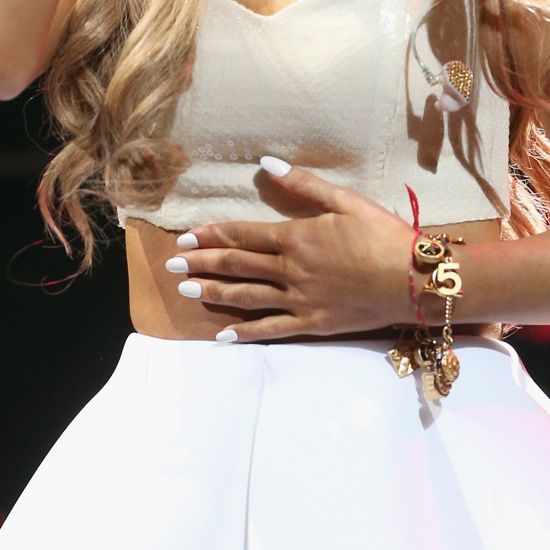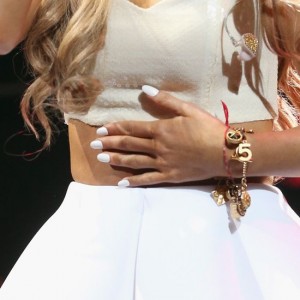 Our pop princess is also choosy when it comes to nail polish. Check out her social media accounts to know the brands she usually wears. It is good to point out that we have to choose the right product for our nails as some contain very harsh chemicals that may weaken young nails. Products with harmful chemicals usually cause easy breakage so check out the best nail polish brand for you.
Lastly, if you think you cannot do it by yourself, there are a lot of professional manicurist or salons that offer this kind of service at an affordable price. You will be surprised to know that most of them knows exactly what Ariana Grande nail is so you will not be afraid that wrong design is painted. You also have the option to bring a copy of a picture or show them the exact design you want so they know exactly what you want to be done with your nails.
Design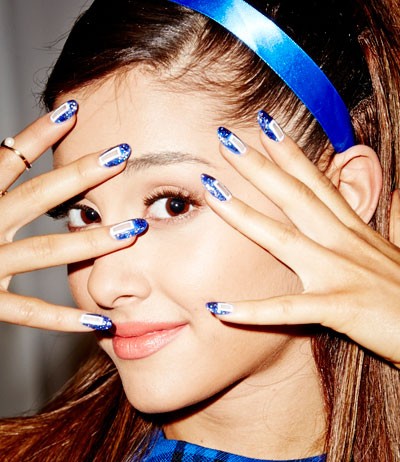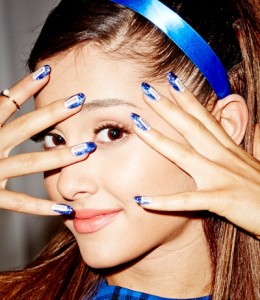 Most of the time, Ariana Grande nails have designs that are filled with glitters and another embellishment to make it more stunning. If you want a design with beads, as Ariana usually wears, after applying the first coat and while it is dry, carefully sprinkle the nail beads. Let it dry before add two more coatings.
Painting is also a critical factor in putting nail polish. Ariana Grande has her manicurist and even without her, she can do this by herself. So if you are doing the painting to yourself, better practice or let somebody help you with this.
If it is your first time, it may be difficult but you can try by painting in one way only and let it dry before putting another coating. It is also suggested to try painting starting in the middle before gradually painting outwards. Put up to three base coatings and add transparent top coating after. Clear coating is applied to add gloss or shine.
Check pictures and samples and choose the best design for you. You may also check video tutorials for you to learn the step-by-step procedure in painting the designs.
Nail Shape
Ariana Grande nails are usually in French Tips. As a young artist, it is just but nice to see her in a short nails. Long nails still do not fit her age. Also, the styles and colors she chooses will not look good in lengthy nails. It means that she knows what looks best on her. Her nail shape is beautiful so her manicurist must be doing an excellent job in maintaining her healthy nails.
Conclusion
Ariana Grande sees to it that her look is as sweet as her image and that is why she usually wears candy-colored designs. She also shares some of the information on how she attained the look she wanted. With the use of Social Media, she shares it with her fans and a lot are happy to follow her instructions just to get the same look as their idol.
It is not enough that you have succeeded in following Ariana Grande's nails. You should know your style and what fits your personality. It is nice to have inspiration but do not forget that you should still choose what will fit you because that is where you will be more comfortable. Start with simple hues first and if you are comfortable with it, you can experiment more.