From her songs about finding and losing love down to her fondness of flowers and lace fabrics, Taylor Swift is a girly girl, no doubt about that. Through the years we've seen Taylor Swift hairstyles that started with a sweet look and eventually evolved into the ultra-modern chic that she has become now.
Taylor Swift is like a chameleon when it comes to her hairstyles. In a month, you will see her in at least four hairstyles, all different and matched with her choice of clothing and accessories.
Below are the most popular Taylor Swift hairstyles:
Hairstyle
Rating

Hairstyles

Tight Curls
7.5
Tiny Beach Curls
6.5
Bouffant-Inspired Updo
5.5
Ringlets and Bangs
6.5
Loose Tendrils
6.0
Sophisticated Straight
7.0
Voluminous Waves
6.5
Soft Waves
6.0
Side Ponytail
5.5
Long Wispy Bangs on Medium Length Hair
6.5
High Bun
6.0
Blunt Bangs
6.5
Tousled Updo
6.0
Short Hair with Fringe
6.5
Deep Side Part
7.0
Tiny Beach Curls
Going for natural make up and soft tiny beach curls produce a sweet aura that emanates from Taylor.
Bouffant-Inspired Updo
With Taylor Swift who is still quite a young woman, a bouffant- inspired 'do is a great choice. It makes her look serious with her craft but not too serious that it takes the youth out of her.
Tight Curls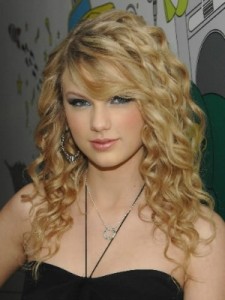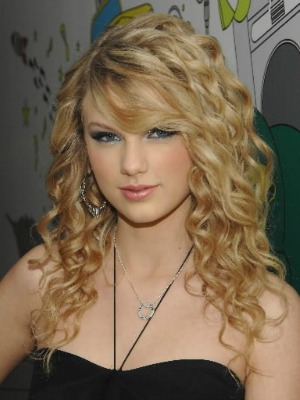 When she was just starting out and belting out sweet songs with her guitar, the country girl in her is evident with her tight tendrils in 2006. With her big hair and bubbly attitude, it was just a preview of the better years to come in her career.
Ringlets and Bangs
2008 is the year when Taylor's bangs came into the limelight. She paired it off with ringlets for an innocent girl vibe.
Loose Tendrils
For a sweet, angelic look, her bangs were twirled into soft tendrils. She uses this style with her cute, frilly dresses and flower inspired accessories.
Sophisticated Straight
One thing that made Taylor a superstar is her ability to transform herself into a completely different look in an instant. With a super straight hair, she launched her 2nd album, Fearless, and indeed, fear is nowhere whenever she reinvents herself through a different hairstyle.
Voluminous Waves
She graced several magazine covers with her signature voluminous waves. Big hair to an equally big star.
Soft Waves
For a while, Taylor Swift hairstyles became more edgy then completely mellowed down the next. She went from having big waves in her photo shoots then she sported soft waves that went well with a bare face and bold eye make- up when she went into fashion shows as an audience.
Side Ponytail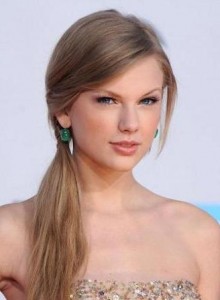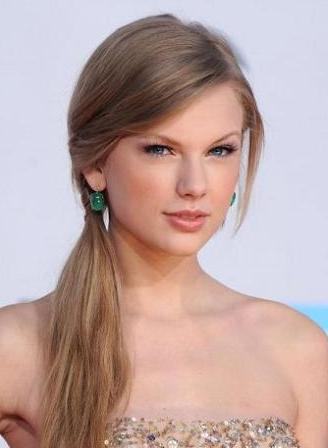 Straightened hair never looks bad with a ponytail. Taylor made it age- appropriate by bringing the ponytail to the side.
Long Wispy Bangs on Medium Length Hair
It was on Twitter where Taylor showcased a new haircut in 2011. The long wispy bangs became sort of a preview to her much edgier style.
High Bun
Taylor has matured through the years and it shows on her hairstyle too. For the 2012 Grammy's, she showed off an elegant gown with a clean-swept high bun.
Blunt Bangs
As the 2012 Billboard's Woman of the Year Awardee, Taylor made sure to evoke a timeless but edgy and confident look by wearing blunt bangs on a sleek and shiny blond hair. It stepped up her look from the usual cute and sweet to a woman out to conquer the world look.
Tousled Updo
2013 was the year that made Taylor more of a woman than a girl. She now have a more mature approach on her lyrics and signature hobby of writing songs about her past relationships. She puts up her hair in a tousled updo and she transformed from sweet to sultry.
Short Hair with Fringe
In 2014, Taylor had her hair chopped off in short- medium layers with fringe bangs. It is sort of a cross between a sweet girl and a sexy siren.
Deep Side Part
Finally her sexiness just oozes from her without much effort. A deep side part showed her at the Grammy's as a full-blown woman through and through.
With all of Taylor's hairstyles, it will take quite a lot of patience to go through and copy each dramatic change. Copying her hairstyles require using the right products. Hairspray and frizz fighting hair products are a must when going for a clean and sophisticated style. They will help achieve a perfectly neat finish. For her messy hairstyles with lots of texture, a trusty salt spray will do the trick. Her signature curls, on the other hand, can be achieved with a mousse and a curling iron with a 2" barrel.
Taylor Swift hairstyles are very versatile and she is not afraid to try a few more. She is a pretty girl with a great sense of style and you can expect more hairstyles from her in the years to come.