Ariana Grande Hairstyles
Ponytails have been around since the cavemen days. Egyptian men and women also wore this hairstyle as a practical choice for keeping the intense heat off their faces and necks. So are the Romans and Greeks. In modern day music arena, however, nothing will ever beat the youthful and sensational Ariana Grande's brand of ponytails. Performing Bang Bang in an MTV Video Music Awards with Jessie J and Nicki Minaj, she looked absolutely adorable in a one half-up high ponytail trademark Ariana Grande Hairstyle.
There is no doubt that ponytail is the hairstyle of choice of the Break Free hit singer. She did try to put her hair down for a second or two in an Instagram post as well as when she attended the Kid's Choice Awards and when she did a gig for Teen Vogue. But a ponytail hairstyle is definitely a great choice for someone as busy as here. Not only is it very simple to make, it is also uber-popular for summer where the weather is, duh, hot. So, if you are in for the hairstyle of Ariana Grande, here are some cool pony hair styles for you to take inspiration from.
Below are the most popular Ariana Grande hairstyles:
Hairstyle
Rating

Hairstyles

Half-Up High Pony Tail
5.0
Up There Pony Tail
5.0
Low Pony Tail
5.0
Sideswept Ponytail
5.5
Ponytail with Front Side-Braid
6.5
Multi-Braid Ponytail
7.0
Bubble Ponytail
5.5
Ponytail with a Dash of Curls
6.0
Ponytail with a Headband
5.0
Double Ponytail
5.5
Disclaimer: Prices shown above have been sourced from individual salon and spa visits and other online sources. They may not cover recent changes. Contact the salon or spa directly to find the exact pricing information.
Up There Pony Tail
Ariana is basically still at a school-girl age and, like most school girls, this high ponytail do does magic all the time. It does not take a lot of time. Simply scoop up, tie it with a barrette and off you go. The only difference it has from a regular ponytail is that it is scooped up far high up leaving no hair to fall on your back. This hair gives your hair a certain bounce without distracting the overall effect of your face.
Low Pony Tail
Channel your inner Elle Woods slash Ariana Grande in a sleek ponytail. This is suitable for someone who has a curly or wavy hairstyle. All you need to do is gather your mop at the nape of your neck with an elastic band or with bobby pains. This can be worn for both casual and formal occasions.
Half-Up High Pony Tail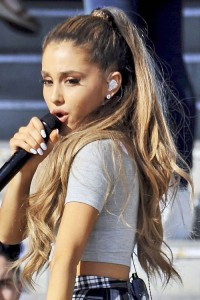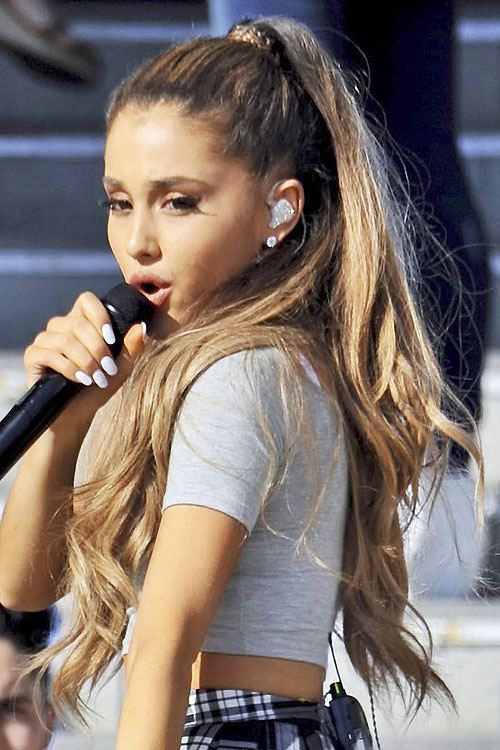 This is, perhaps, the most common Ariana Grande hairstyle ever fashioned and presented by her in various functions and singing gigs she'd attended. A lot of tutorial can be seen on YouTube for this hairstyle most, if not all, as a tribute to the sultry young singer or to Barbie (yes, the doll). This hairstyle is a mix between the high ponytail and the pompadour. Flirty and girly, you can wear this to any casual or semi-formal event. Ariana Grande often don this hairstyle when up on stage.
Sideswept Ponytail
If you have curly long tresses, this is one Ariana Grande hairstyle that will make your hair rock. For one who has a long but curly style, the side-swept hairstyle can make it look glamorous. Simply gather your mop then, sweep on one side. Tie it with an elastic band and apply some mousse to hold it in place.
Ponytail with Front Side-Braid
Add a little zest to your simplistic ponytail by adding braids to it. One of the most common hairstyles don by bridesmaids and flower girls during wedding functions, this is also one of Ariana Grande's frequently donned hairstyle while out and about doing singing gigs and interviews. How to do this hairstyle? Simple separate your hair into two parts by leaving the front section and tying the remaining part in the way you tie a ponytail. Braid the front section and finish it up until the base of the ponytail. Secure with bobby pins.
Multi-Braid Ponytail
Is your hair thick and long? Do not chop it off or even risk doing a high-maintenance rebond. This multibraid ponytail style is styled for the likes of you. Simply divide your hair into two equal parts and then, divide each part into another nine equal parts. From these, build at least three single braids. Tie them all up to create a multi-braid ponytail style.
Bubble Ponytail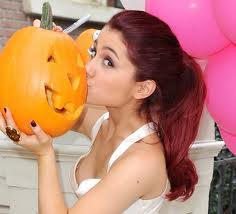 Though a rarely seen style, this quirky ponytail is a good option when donning equally quirky outfit. Many fashion-forward celebrities have followed this bubbled version of ponytail though. Great for long hair, simply tie each bubble at least 3 inches apart from each other using an elastic band.
Ponytail with a Dash of Curls
This Ariana Grande hairstyle is one great look to sport when out for a nighttime soiree. All you need to do is straighten the topmost portion of your hair, tie it with elastic band and curl the other loosen part.
Ponytail with a Headband
Whoever says you cannot accessorize a ponytail is deeply mistaken. Try it the Ariana Grande way by adding a headband. Choose something bejeweled when going for a formal look.
Double Ponytail
Some call this pig tails but to the Bang Bang teen sensation, this is a double ponytail. Just do the usual loose hair pig tails and you got yourself an Ariana Grande hairstyle.