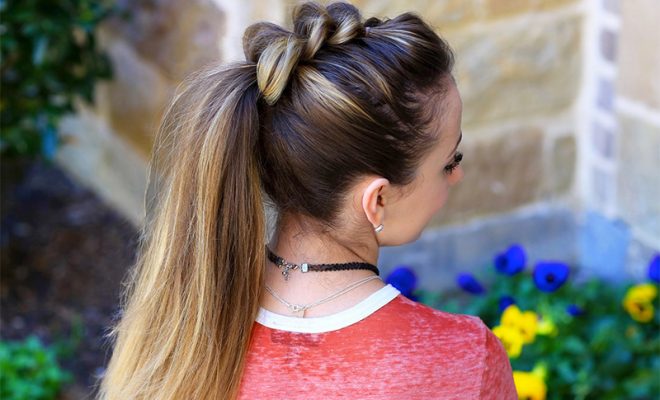 Hair Styles
Sleep In Everyday with these Five 5-Minute Hairstyles to pull off while Running out of the House
By
|
For most people, mornings can be the hardest parts of the day. They're hectic in many households and if you're not a morning person, you wouldn't want to get out of bed at all.
Luckily, you can always do things to help you stay longer in bed. Doing most of your morning prep the night before like showering, fixing your lunch, or ironing your clothes are all excellent ways to get this done. There are just a few last things that you have to make time for before rushing out of the house which can include putting on makeup and styling your hair.
If you can make do with minimal makeup, the biggest challenge can be how you can tame your hair before you rush out of the house. This can be the last task anyone who wants to spend more time in bed has to face.
So to help you out, we've rounded up 5 of the easiest but still some of the most stylish hairstyles that you can pull off in just five minutes or less. Give these a try and you might just get a chance to sleep in every day.
Milkmaid Braids
Braiding your hair has always been one of the easiest ways to style it in. If you're used to braiding and you have relatively long hair, you can easily pull this hairstyle off in a jiffy.
Here's how to sport this style:
Part your hair into two sections and braid each end to turn them into pigtails.
Lift one pigtail and wrap it up on the same side of your head. For those with really long hair, wrap each pigtail on the opposite sides to create a crown.
Secure and smooth the crown with bobby pins.
Knotted Ponytail
Perfect for those with medium and long hair lengths, this style is basically just an upgrade of the regular low ponytail. You can position it at your back or side, depending on your preferred look for the day.
Here's how to do this style:
Part your hair into two sections.
Tie a knot using the two hair sections twice.
Secure with an elastic band that will blend in nicely with your hair.
Try loosening up the knot a bit by slightly tugging at the knotted hair to create more volume.
Twisted Pigtails Bun
If you want your hair out of the way on a busy day but you don't want to do the good old bun, this can give it a literal twist.
How to sport this look? Do these:
Part your hair into to sections and put them in high ponytails. Make sure to place them relatively close to each other.
Braid the dangling hair from the ponytails and secure them with some sturdy elastics.
Grab the two pigtails and twist them together to create a bun.
Secure the bun with some bobby pins.
Headband Chignon
Chignons don't have to take forever to do if you have a skinny elastic headband, some bobby pins, a set of nimble fingers, and about five minutes in the morning.
Here are the steps to give this style a try:
Comb your hair out and place a skinny elastic headband on your hair like a crown.
Gather the hair at the bottom of your head and twist some together. Roll it up and tuck them into the elastic headband. This will create a nice bun. Continue tucking your hair until all of it until it's secured.
Secure some areas that you feel will roll out easily with bobby pins.
Finish up with some Paul Mitchell hairspray to make sure that the updo will be set in place.
Wrap It Up
If you love wearing scarves, this can be a great way to accessorize and style your hair at the same time. There are various ways to do this, but let's stick with one of the easiest techniques:
Put your hair up in a bun leaving your bangs or fringes set loose.
With a folded or a rectangular scarf, wrap the scarf around your head and tie it in a cute knot above your forehead.
Bonus: Use Some Fancy Hair Accessories
Those who are always strapped for time in the morning can also cheat their way to a fancy 'do. Just collect a number of fancy accessories may they be embellished elastics, colorful headbands, or adorable hairpins and you're good to go. Just slap them on after combing your locks and you'll already look nicely put together even if you didn't spend hours in front of the mirror.