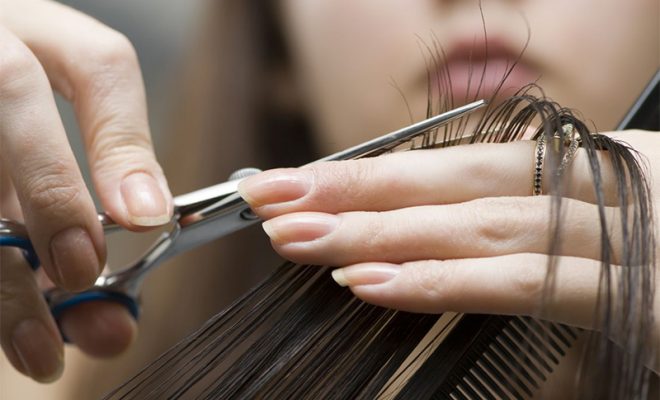 Hair Tips
The Most Important Hair Question of All Time: Should You Cut Your Hair Regularly?
By
|
Whether you love or hate going to the salon, asking whether you should regularly cut your hair or not will always come to your mind. Trims are deemed as some of the best ways to keep your hair in tiptop shape, but what if you're growing your hair? What if your locks don't have split ends and fraying at the ends yet? Should you still get regular cuts or trims? How often should you get them? There are so many questions that come with whether you have to get a regular haircut, so to help you out, here are some expert answers on the subject.
On Cutting Your Hair Regularly
So do you need to cut your hair regularly? Experts say it really depends on your hair. There are guidelines that you can follow, depending on your hair type, which are as follows.
12 week intervals for those with tight, coarse curls or virgin hair. This is the normal length of time to start getting split ends and is actually the longest time you should wait before getting a haircut if you don't want your locks to look frayed.
8 to 12 week intervals for those with wavy and straight long hair as well as for those with fine or medium curls. For long haired gals, this period is also the usual amount of time to get splits and breakages. The long length also allows you to need less trims because tresses in this length usually doesn't need defining and shaping. Curly haired gals, on the other hand, usually work hard to keep their locks hydrated, so it takes a while before their ends start to fray. Of course, if you don't take good care of your long tresses and curly locks, this interval can get shorter.
6 to 8 week intervals for those with layered hair. This hairstyle requires some maintenance, so if you want to keep it at the same length, you'll have to see your hairstylist at least every two months.
6 week intervals for those with bobs, lobs, and lots of layers. If you're not planning to grow out your hair and you're sporting these hairstyles, make sure to book for an appointment with your stylist every so often.
4 week intervals for those with short and damaged hair. Maintaining short can be done with monthly trips to the salon as well as helping your hair recover from damage. Some TLC from your stylist can help your locks' faster recovery.
2 week intervals for those with bangs. If you have blunt, full bangs, keeping it in perfect shape will require regular appointments with your stylist.
However, it's still all up to you whether you take this guideline to heart or not. You can always opt to go longer without a trim if your hair is healthy and isn't fraying at the ends just yet. You can also go to the salon more often if you wish to keep your haircut short, sweet, and on point.
On Cutting Your Hair While Growing it Long
A popular belief when trying to grow out one's hair is to have it trimmed regularly so it will gain length faster. This isn't true, though, as snipping the damaged ends don't necessarily encourage growth from the roots. It's really a matter of whether your hair grows out fast or not.
However, you'll still need to get your hair trimmed regularly even if you're growing it out. Especially if it has been colored or chemically treated before, you'll need to get rid of the fraying ends at least every eight weeks to keep your hair looking healthy and prevent the length from weighing it down.
If you're still unsure with how to go about having regular trims while trying to add length to your hair, ask your hairstylist about it. Professionals from Chatters Salon will be more than happy to provide some helpful tips in how you can work out getting trims while growing out your locks.
On Keeping Your Hair Ends Healthy
If you're not too keen on getting regular haircuts, you should work hard to get healthier hair instead. Having stronger hair strands will minimize damage and breakage, so you can grow out your hair without any worries. It will also minimize your need to get fraying and splitting ends snipped regularly, letting you get the most out of growing your hair out.
If it's your hair ends that are giving you the most hassle, though, here are some tips you can try to keep it in good shape.
Use argan or macadamia oil on the tips of your hair will also help seal these most vulnerable parts of your locks, keeping them from splitting and breaking easily.
Use deep conditioning hair masks regularly to ensure that your hair is in great health.
Avoid heating tools when styling your hair to avoid damaging it.
Keep your hair well hydrated at all times.
Get a good cut that will help you keep your hair ends nice and healthy.