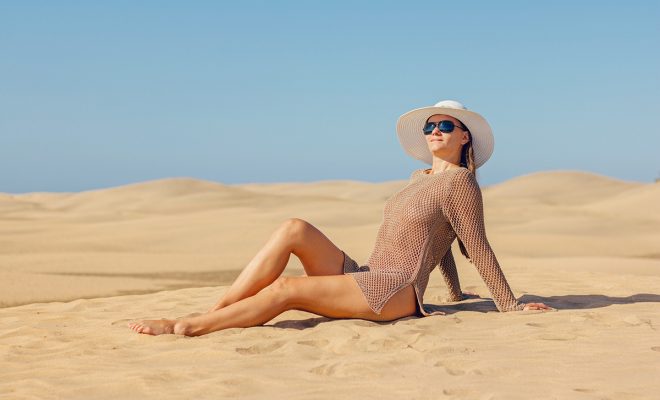 Tanning Info
Celebrities Swear By these 9 Self-Tanning Tricks
By
|
Fact: self-tanners are some of the most reliable products that will give you a sun-kissed glow no matter what time of the year it is. Even celebrities who have the luxury to fly to a tropical paradise every now and then use them. This means that if they can count on it, you can, too.
But because celebs have their team to help them look impeccable at all times, you might need to learn a few tricks to replicate their post-beach vacay look. Wanna know how you can look just as healthy and laid-back as your favorite celeb? Here are a few of the best self-tanning tricks that you might find useful:
Know Your Options
Self-tanners are available in different forms so you can choose which one will be the most convenient choice for you. Here are five of the most common options that you can go for:
Tinted body lotions are exactly what their name describes. They're lotions that add some color to your skin. Some products offer instant results while others tend to gradually add color over the span of a few days.
Body highlighters are a lot like tinted body lotions but with a hint of shimmer. They tend to provide an instant glow so a lot of celebs love using them.
Bronzing towelettes offer a quick and convenient way to apply body bronzers since you just really need to wipe them all over your body. It can be hard to tell if the color is coming off of the towelettes, though, so you have to be very careful of streaking.
Bronzing mousse tends to provide a more natural-looking tan so they're also highly preferred by lots of users. A little goes a long way, so be careful with the amount of product you rub in. It's also best to use a mitt to prevent your hands from getting too dark.
Spray tans tend to get a bad rap for making you look unnaturally dark but if you know how to use them properly, they can actually give you the sun-kissed glow you want.
Exfoliate
Self-tanners tend to cling to dry patches and make them look even drier than what they truly are. This is why it's essential to exfoliate your skin before you put on self-tanners. The product also adheres better and more evenly on a smoother layer of skin. As a result, your tan will look more natural.
Don't Forget to Moisturize Your Skin
Again, as the self-tanner can highlight dry skin, it's best to put on some lotion before applying your tanner. Make sure to put on some lotion or skin moisturizer before going all out with the tanning product.
Apply Your Tanner Last
This should be a no-brainer since you'd want your tan to look even all throughout your body but it still bears repeating that you should apply your tanner last. Do everything else first, especially hair removal. You can look patchy if you decide to shave or wax after you've already applied your tan.
Work Your Way Up
When applying your self-tanner, it's best to work from the bottom then work your way upwards. Save your arms for last. This technique will prevent your tan from getting creases, lines, and streaks from the effort of applying your chosen product.
Be Careful with Streaking
One of the most annoying things that can happen with self-tanners is that they can get streaky. This is because half of the time you don't really get to see if you're doing a good job at applying the product evenly. This can result in white streaks and patches here and there.
A lot of people avoid this by using cream and lotion type products. They carefully apply by area by rubbing the product in using circular movements. Some like spray tans as they can distribute the product thinly and evenly with precision targeting.
As mentioned above, towelettes can be convenient to use but they're also prone to streaking. Be careful when using them so you get to achieve natural-looking results.
Apply Some Powder
An expert tip that you should consider adding to your routine is to apply some powder after letting the bronzer sink in and dry. It will help seal the color in and prevent the product from transferring to your clothes.
Take Your Time
It will be best not to rush your self-tanning process. Experts actually recommend doubling the waiting time just to make sure that the product really gets to sink in and dry up before you go about your day. This can help prevent the color from rubbing off or transferring somewhere else.
Give Tanning Salons a Try
If all of these feels like too much work for something that might look unnatural if you make a mistake, you can always just head to a tanning salon instead. Beach Bum Tanning and Island Sun Tanning are just two of the best places to get that sun-kissed glow without leaving the city.
You can bet that celebs go to tanning salons from time to time, too, so why not indulge and pamper yourself a bit even if you can't hit the beach on the regular?