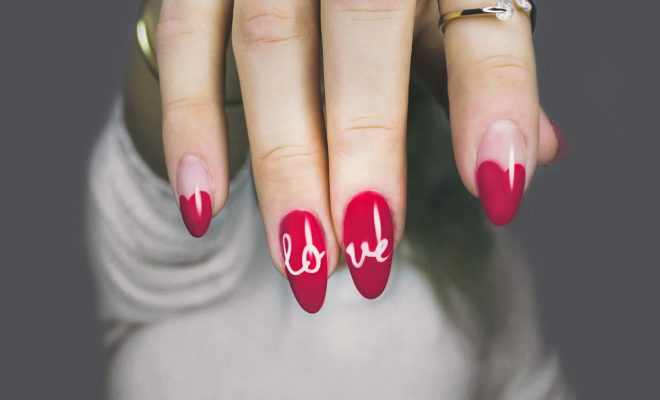 Nail Tips
20 of Today's Hottest and Most Unique Nail Trends
By
|
Gone are the days when you can only sport colors, rhinestones, glitters, and frost on your nails. With today's technology and trends, the sky's the limit when it comes to how you can design them. They may not seem like the biggest spaces for you to showcase your creativity, but they definitely offer enough room if you're daring enough.
If you don't have any idea where to start, though, here are some of the hottest trends that are proven to wow and impress anyone who'll see your nails.
Statement Nails
Got something to say? Paint them on your nails for all of the world to see.
Minimalist with a Punch
Sometimes less is a whole lot more when it comes to nail art. You just need a little creativity to make them work well for you.
Logo Nails
Proclaim your love for your favorite designer brands by sporting their logo on your nails.
French Tips with a Twist
Love the sophistication of French trips but want something new? Artists have been giving them a twist in various ways so you can just take a pick or get inspired by them.
Green with Romance
Nowadays, flowers aren't the only things that can invoke romance in the air. Leaves and green petals can also look very pretty and feminine on your hands.
Shiny and Textured
Add an unexpected touch to your metallic nails by adding some texture to it. This grunge-y posh touch will surely surprise onlookers.
Reverse French Tips
If you love the minimalism of French tips but want something different, this reversed version might just do the trick for you. It will highlight your cuticle instead so it can really make for an interesting set of nails.
3D Nail Art
Technically, 3D nail art isn't something new. A lot of people has been adding rhinestones and other embellishments to their nails for years now. However, certain techniques tend to take things to the next level. And some goes beyond your nails.
Whether you count it as nail art or hand art or accessorizing, it will still be a striking addition to your overall look.
Overextend
Like the 3D nail art, this one also goes beyond just your fingernails. It's more like body art but since it's an extension of your nail's design, you can still count it as another kind of nail art.
Let It Bleed
If you thought that you can only use the dripping technique for your gory, Halloween looks, think again. This messy nail art can also look nice in the right design.
Multicolored Glitter
Want to go all glam, loud, bold, and shiny? Use different glittery colors on your nails. This will surely turn heads no matter where you go.
A Pop of Color
This is also not a new trend but it continues to be a popular style in the fashion industry because of the contrast it offers. It can be as simple as using a neutral or pale hue on most fingernails and then a loud and bright shade in a single finger. Some also opt to put nail art in a single fingernail to add more drama. Either way, it looks great and full of personality.
Tweed Nails
Who knew something so classic as tweed can look so modern and exciting when translated into nail art? There are also tons of ways how to customize this design, so it can definitely be a great way to express your creativity.
Too Cool to Care
Take your "I don't care" look to the next level by sporting some grown out nails and highlight that laid-back cool you have in you.
Watercolor Nails
Who said you can only wear solids, patterns, and drawings on your nails? You can also sport swirls of colors with the right techniques.
Celestial Nails
Another take on romantic nails are these starry designs that will make you swoon.
Maximalist Mixed Metals
Not a fan of keeping things low key? This celebrity mani sported by Bella Thorne will give your nails a luxurious look.
Monogrammed Nails
Express your self-love in a chic manner with these monogrammed nails. They'll look great if you have other monogrammed pieces to match.
Caviar Nails
Here's another interesting way to add texture to your nails without going over-the-top.
Florals
No need to utter Miranda Priestly's famous line because we know that florals aren't a new nail art concept. This doesn't stop the experts to find new ways to give floral nails a spin, though.
You'll surely impress and elevate your look to a whole new level with these unique nail designs. Pull these off with the help of the best nail technicians at Hollywood Nails or LA Nails and you won't go wrong.