101 Hairstyles for Men
It might not be obvious at first, but men's hairstyles can just be as varied as women's. From the dapper pompadour, to the edgy and provocative Mohawk, the styles that go in between are definitely worth exploring. Talented barbers and hairstylists all over the world have innovated new styles that incorporate new shapes, textures, and haircutting techniques that make the realm of men's hair more vibrant and full of possibilities.
It can be very tiresome (and boring!) to keep the same hairstyle for years on end. Hopefully this article will inspire you to try a new hairstyle for a change. There's a style that will definitely suit your personality, preferences, and of course, your budget. Take a look at our list of 101 hairstyles for men: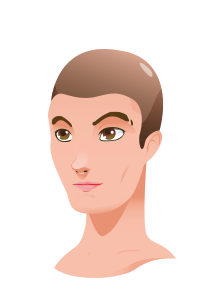 Clean and sharp buzz cut
This timeless and classic cut suits all types of face shapes. This short haircut will also look good with a little bit of length on the top.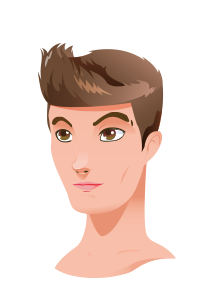 High on volume pompadour cut
This cut is very elegant and sophisticated, and works best for men with thick hair. Hair is combed back, and volume is emphasized on the top.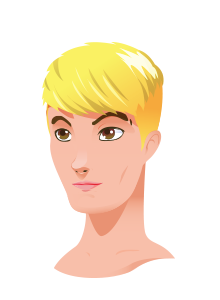 Choppy angular fringe with shaved sides
For an edgy appeal, this statement cut requires all sides to be gradually shaven, and choppy layers are introduced on the crown of the head.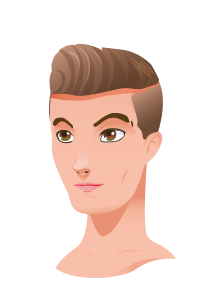 Side part and swept away pompadour
This pompadour haircut introduces a side part, which emphasizes a parted line on one side of the head, from which the brushed back hair is parted away from.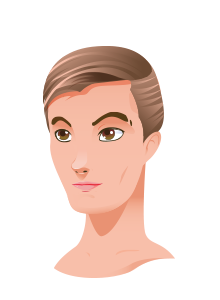 Modern and sleek slick back
This cut requires for all sides to be tapered gradually, and the top is left long. From the fringe to the topmost hair section, hair is combed back and can be styled using hair gel or wax.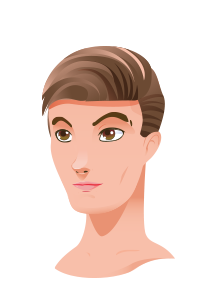 Classic and charming side part
This style goes especially well during formal occasions. The sides can be cropped short or a bit longer, but the side part is emphasized by combing the hair away from the part, then styled with hair gel or other similar product.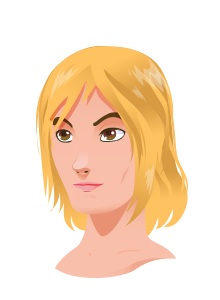 Grungy and tousled shoulder length cut
This long cut can be very appealing and sexy if styled with some mousse or texturizing product to add some volume to give it that ruffled look.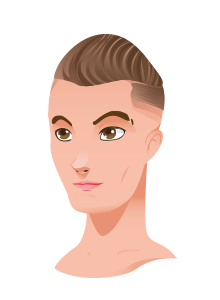 Pompadour with razor shaved faded sides
For a sharper, modernized take on the classic pompadour, incorporating crisp and clean shaved sides that fade ever so gradually can enhance your pompadour cut.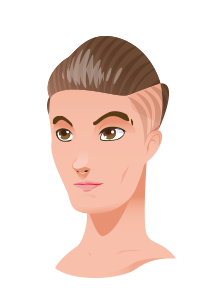 Mid tier disconnected shaved fade
This is a more daring cut that keeps the hair on the crown long and tousled (or shaggy), whilst the mid tier area and the rest of the head downwards is cleanly shaven.
Close and short cropped sides with edgy quiff
To avoid looking too stiff, which short cuts can tend to have, keeping the top a bit longer and chunky with a lengthy fringe looks fantastic when styled in a scruffy way.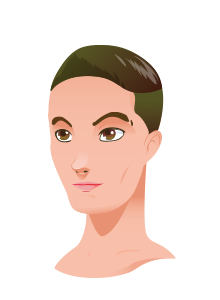 Short cropped sides with razored top
Giving the top a razored cut creates a great, wispy and feathery texture, which is great for men with thinning hair who would like to create the illusion of added volume.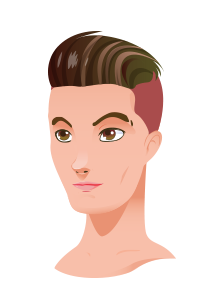 The dapper combed back quiff
Compared to the classic pompadour, the quiff has less contrast between the long strands on top and the short sides, as the sides of this quiff is kept in medium length.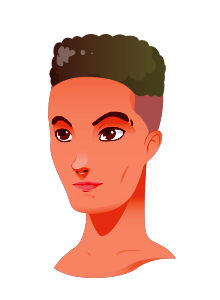 Edgy shaped afro haircut with shaved sides
This cut is a great way to keep a natural afro updated and well-groomed. The sides of the head can be shaved, with a gradual fade, whilst the top of the afro can be shaped in a round or angular manner.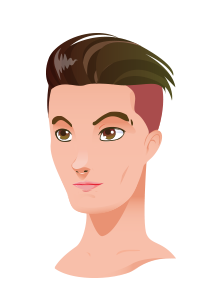 Long quiff with thin wispy fringe
For a scruffy, casual look, a thin and wispy fringe can be added to a long quiff. The fringe can be swept sideward or can be kept flowing naturally.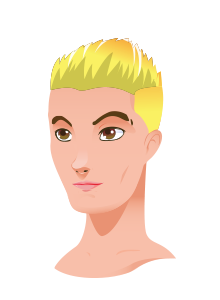 Short and spiky quiff haircut
A nice disheveled look that still looks dapper is the short and spiky quiff. The sides are kept in medium length, while the top can be textured with styling paste or wax to create the spikes.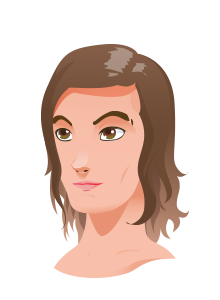 Shoulder length tight and wavy curls
For men with curly hair, this look can be great when the hair texture is kept lustrous. The ends of the hair can be cut straight, with a part on the side or in the middle.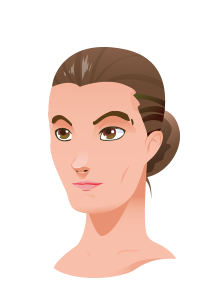 Slicked back long hair in a chignon
Men can pull of a classy chignon for those with long, shoulder length hair. The hair can be combed back and secured with an elastic or scrunchie. Hairgel can be applied to keep stray strands in place.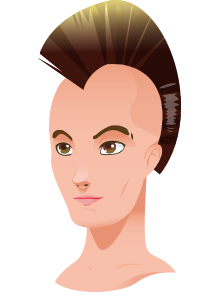 Punk Mohawk with dyed spikes
This classic punk haircut never goes out of style. The sides are cleanly shaven while a strip of hair on top is kept at a length of at least 2 inches. Tips can be dyed in bright colors to enhance the effect.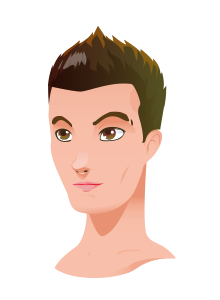 Faux hawk with long sides
A faux hawk has sides that are not completely shaven and can be kept an inch long and brushed down. The top that makes the faux hawk is styled to create upward spikes.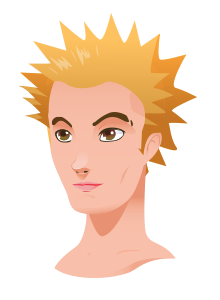 Porcupine spikes with spiky front fringe
This style entails using a hair gel or hair wax to create the spikes that stand all over the head, whilst the emphasis is on the front fringe, which is cut longer and spikes forward.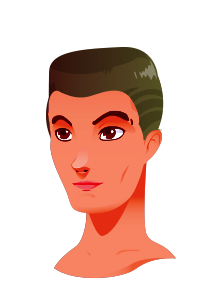 Classic flat top with clean sides
This flat top requires the sides to be shaved in a gradual fade, then the top is kept sticking upwards, and then cut in the same height to create the flat top.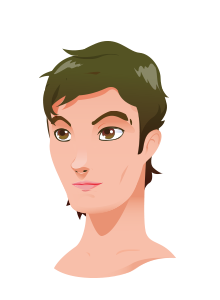 Short wavy curls with side swept fringe
For a grungy but not too unkempt look, this cut is perfect. A styling product like texturizing paste can be used to create the tousled waves, while the fringe can be cut longer so they can be swept sideways.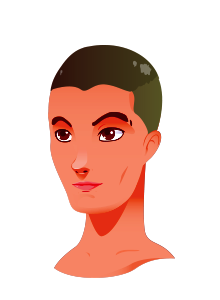 Short afro curls with clean sides
For men with natural afros, the afro part on the crown of the head can be cut short enough to stick upwards, with the sides on top of the ears and all around shaved gradually.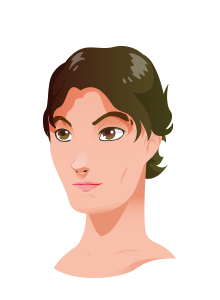 Long and classy retro style curls
Curls are kept in medium length, but cropped shorter underneath the ear level. A parting in the middle finishes this classic look.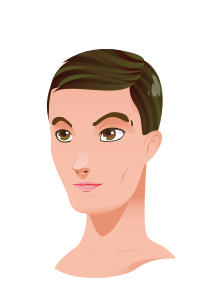 Buzzed side with side part and lengthy comb over
This edgy style requires the hair to be parted on the side, with the parted side shaved cleanly, and the comb over part to be chin-length long.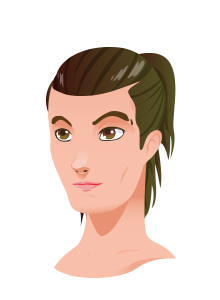 Slicked back half ponytail with shoulder length ends
For men with shoulder length to medium length hair, the hair on top of the crown can be combed back and secured into a short half ponytail.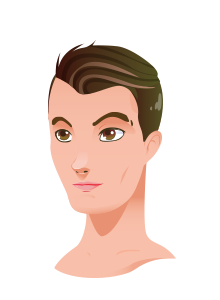 Long quiff with edgy undercut
For an edgier looking quiff, the top quiff can be kept extra long and then combed back, while the sides can be buzzed finely to give the cut a good contrast.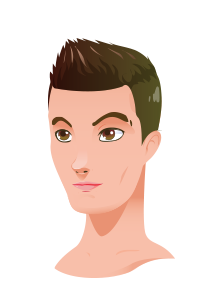 Tapered short cut with spiky fringe
This regular tapered cut can be jazzed up by keeping the front fringe section long so it can be styled into wavy, forward-facing spikes.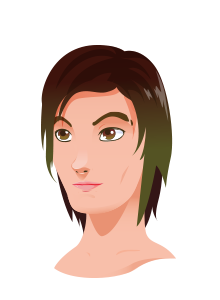 Long and shaggy haircut with layers and fringe
This 60's and 70's hippie inspired cut is great for men with straight hair. The front of the hair can be given layers, as well as a fringe to frame the face.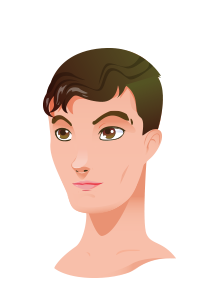 Tapered sides with side swept long curly fringe
This dramatic look is great for guys with curly hair. The sides can be cropped neatly, while the top curls will stand out with its extra volume as it is also swept on the side on top of one eye for a sexy look.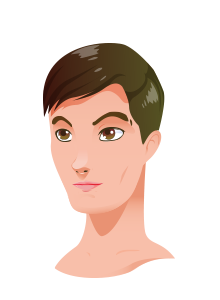 Elongated quiff with an angular front fringe
A great way to update the classic quiff is to give it an angular fringe that leans to the side. A hair texturizing product can be used to keep the fringe leaning to that side.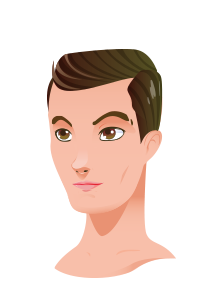 Classic All American Short Crew cut
The classic crew cut is very low maintenance, and is a great cut that suits most face shapes. A variation can be made when the top of the crown can be left a bit longer than the sides.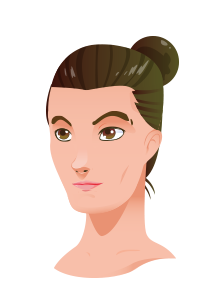 Combed back slick man bun
The man bun is a sexy and clean hairstyle that can be used by men with medium to long hair to keep them looking dapper and sharp. Hair is slicked back then secured with a hair tie into a small bun.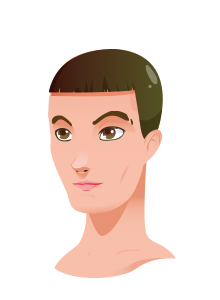 Blunt cut with a straight block fringe
This haircut is cut short on the sides, while the fringe is given a straight, blunt cut that gives it a block effect.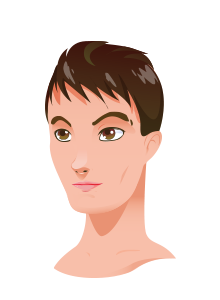 Brit Pop inspired short crop
This style is defined by having the sides neatly trimmed into a short crop, while the top is kept a bit longer, long enough to be tousled and textured into slight waves.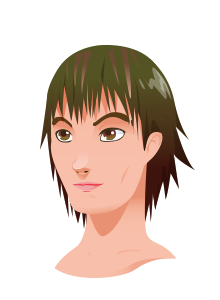 Shaggy cut with a choppy fringe
This hair cut goes around 3 to 4 inches in length in the sides, and layered to give that shaggy look. The fringe is kept even longer, with the edges cut in a choppy way.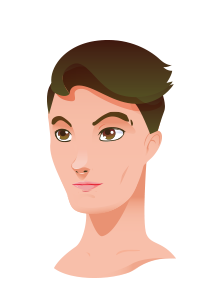 Retro inspired top heavy wave
For guys with straight hair, this retro-inspired cut requires a styling product such as hairspray or hair gel to create the top wave shape.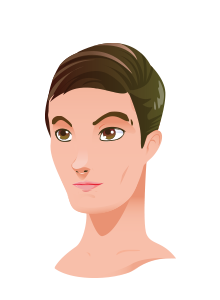 Slick and wavy squared top quiff
An angular take on the classic quiff is one where the top can be styled upwards using a texturizing lotion, while the top is cut in a square, with corners on each side.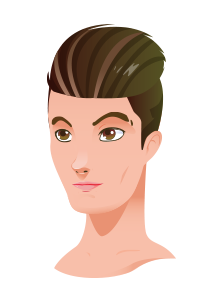 Long quiff with retro waves
This long quiff is made retro with the addition of waves. The top quiff can be curled using a curling iron to give the tight waves that lay flat sideward.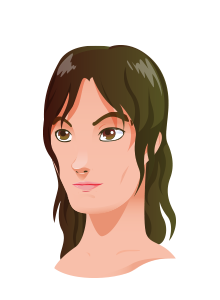 Middle parted shoulder length locks with waves
This hairstyle is cut straight on the ends, with the top left straight with a part in the middle. The ends of the hair have soft, slight waves.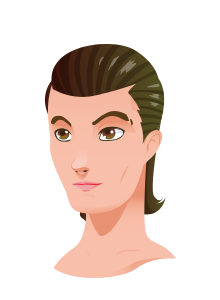 Sleek and dapper modernized mullet
This modernized mullet entails shortly cropped sides with a slicked back lengthy top. The bottom section of the hair is combed neatly and styled to curl slightly outward.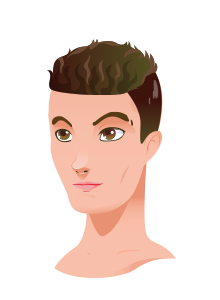 Short cropped sides with beachy top waves
This cut is great if you are eyeing a summery, surfer vibe. The sides and back of the hair are trimmed short, while the top is kept long. A texturizing lotion is used to create the beachy waves.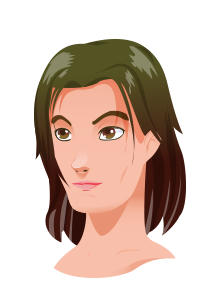 Modern bohemian with full wave fringe
The sides of the medium length hair are neatly tucked behind the ears, whilst the top is given a full volume treatment with huge waves that flop to one side.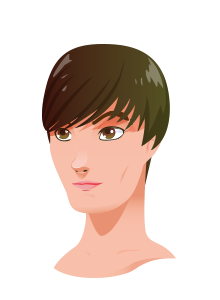 Glam-rock inspired classic cut with fringe
This style is inspired by glam rock, and is a great look for blonde, fine hair. The hair is kept straight and medium length with soft layers at the bottom and a full, side swept soft fringe.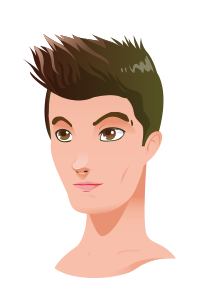 Asymmetrical top quiff with cropped short sides
This quiff features an angular top that leans in a 45-degree direction to one side, while the sides of the head are trimmed short and neatly.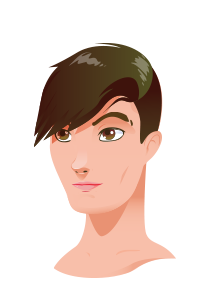 Tapered cut with wild side fringe
This cut has an exaggerated fringe that's cut way longer than the rest of the top quiff, so it can be styled to look like it's flying away to the side.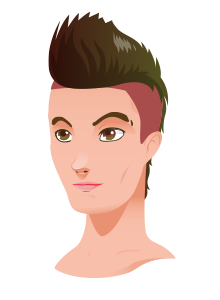 Japanese style edgy Taeyang Mohawk
This Japanese version of the classic Mohawk features clean, faded sides, clean sideburns, and the top Mohawk part stands up and waves slightly forward.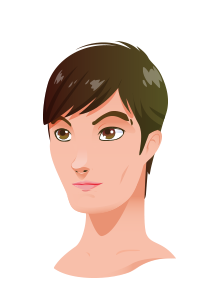 K-Pop inspired chunky medium haircut
This haircut is popular among a lot of Asian teenage men, and is defined by severe chunky and pointy layers, with a side swept fringe and chunky, angular sideburns.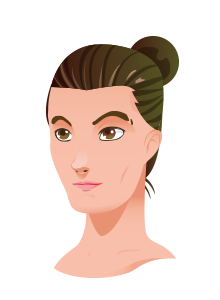 Japanese style samurai man bun
This style is the origin of the now popular man bun. For men with shoulder length hair, the back of the hair is kept in a bun while the front is left rugged, leaving the chunky layered fringe and long sideburns down.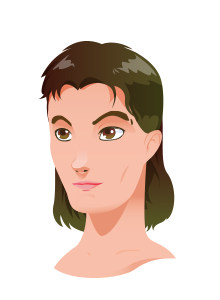 Eighties style classic mullet haircut
This cut is known for being all business in front, and party at the back. The back is kept long, while the front, top, and sides are kept short.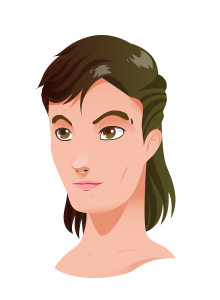 Eighties inspired mullet and shag hybrid
This haircut entails the front, top, and sides relatively shaggy, while the back part is kept long past the shoulders, like an exaggerated mullet.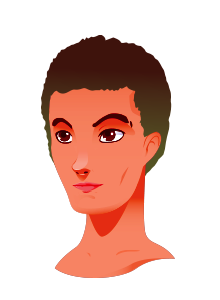 Classic black Jheri curl hairstyle
This hairstyle is usually worn by black Americans who had naturally long and tight curls, which are permed to create a curl that hangs down.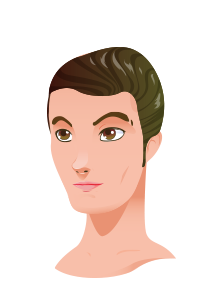 Classic wet look pompadour hairstyle
This classic pompadour is enhanced by giving it a wet look by the use of hair gel to give it that sheen and luster.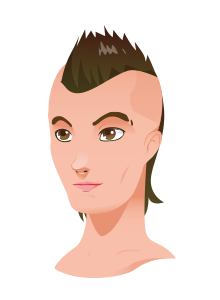 Eighties style mullet and Mohawk hybrid
This hairstyle fuses the 2 iconic hairstyles: the mullet and the Mohawk. The top is kept long and spiked upwards, while the back is kept long, like a mullet.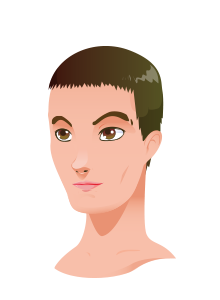 Short trimmed with classic Caesar bangs
Caesar bangs are few, short, uneven cuts in the fringe that are brushed down. The rest of the sides and back are neatly trimmed short.
56
Approximate Price: $120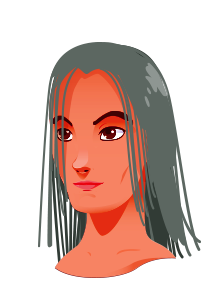 Classic and long skinny dreadlocks
This is a classic black style that entails growing the hair very long, then braiding all of them into dreadlocks.
57
Approximate Price: $120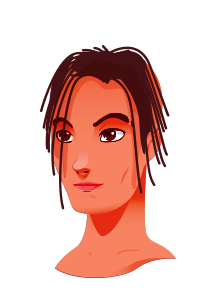 Neat and clean box braided sections
This look starts off by sectioning off medium-length hair into small box-shaped parts, then braiding each part tightly.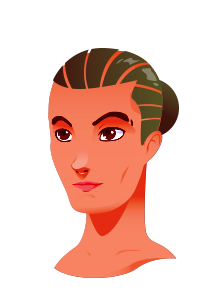 Vertical cornrows in a high man bun
Small and skinny cornrows are created from top until the ends of the hair, and then all the braids are gathered up into a neat man bun for a sleek look.
59
Approximate Price: $120
Top and crown dreads with side undercuts
This hairstyle has buzzed short sides, while the top is kept long and braided into regular-sized dreadlocks, then gathered into a ponytail for a polished and sharp look.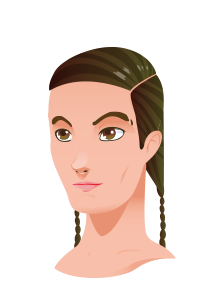 Double French braid for men
A more elaborate and sophisticated alternative to a man bun is a double French braid from each side of the head that starts from the hairline going down to the nape.
61
Approximate Price: $120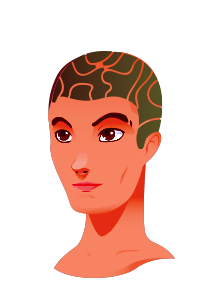 Full head of cornrows with intricate patterns
For a more unique look, cornrows can be braided into intricate patterns that form various shapes or symbols, and then braided until the ends of the hair.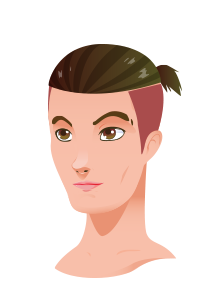 Mohawk with faded sides and topknot bun
This is a more sophisticated version of the Mohawk where the sides are given a modern, faded close shave, while the top Mohawk part is slicked back and gathered into a loose topknot bun.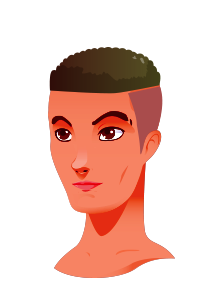 Tight kinky Mohawk with faded sides
This Mohawk works great with men who have naturally kinky curls. The top part is kept long and sticking upwards like a Mohawk, while the sides are shaved in a faded manner.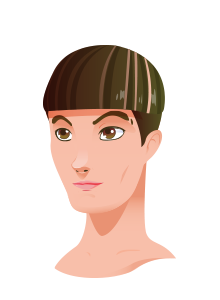 Classic eighties style bowl cut
This haircut has a middle part, while the crown is cut in the same length, creating a bowl or mushroom look.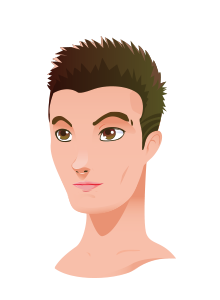 Spiky cut with highlighted tips
This trendy hairstyle requires the hair to be medium length, with the tips dyed in a lighter shade to enhance the effect when the spikes are styled.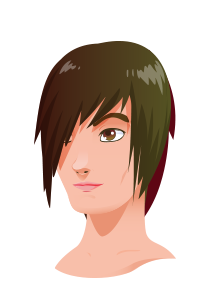 Emo haircut with long side swept bangs
This style is defined by having jet black and shiny straight hair that's cut into a disheveled way, with the fringe kept extra long, long enough to be swept to the sides dramatically.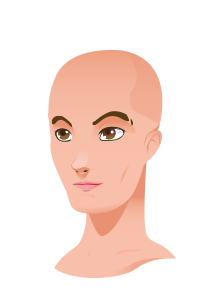 Clean and shiny bald style
This haircut is simply defined as completely shaving off all the hair on the scalp, and the scalp can be polished to give it a shiny look.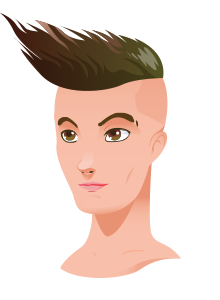 Spiky quiff with razored intricate side designs
This quiff is made edgier and more provocative by the introduction of unique, geometric designs on the faded close shave on the sides.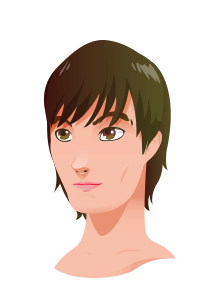 Brit pop and indie rock hybrid
This cut fuses the popular close-cropped Brit pop style with the disheveled indie look. The fringe is kept long and swept forward, while the rest of the hair is kept textured and a bit grungy.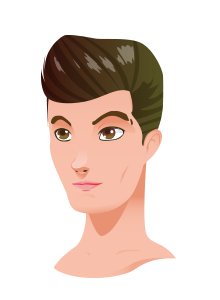 Vintage pompadour with rockabilly top curl
This pompadour is made more elaborate by creating a huge curl on the front fringe by applying a dab of pomade.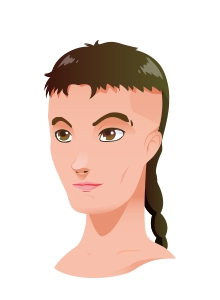 Eighties style braided rattail with shaved sides
This iconic style is for men with very overgrown mullets, with the sides kept neatly buzzed. The back is braided until the end, creating a rat's tail.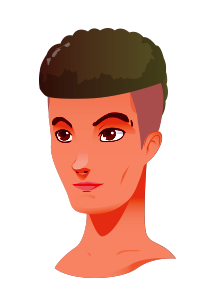 Well groomed low tapered afro
To tame down a wild afro, it can be tapered by shaving the sides gradually, and trimming down the crown and top area into a low, manageable height.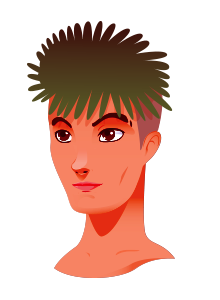 Classic black twists with faded sides
This style starts off by giving the sides a nice and clean faded cut, while the top part of the hair can be twisted and styled upwards so it sticks out.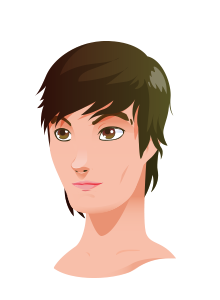 Chunky and disheveled skater boy haircut
This haircut is for medium length straight and wavy hair types, where the hair is combed down and cut in various angles, with a long, exaggerated and angled fringe.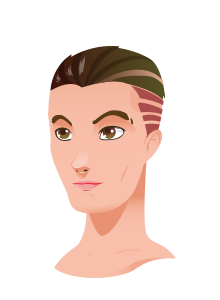 Tapered haircut with geometric fade back pattern
A great way to make your short, tapered haircut more unique is to introduce geometric patterns by using a razor.
76
Approximate Price: $150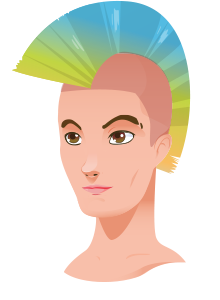 Rainbow colored classic punk Mohawk
To further enhance the look of the classic punk Mohawk, it can be dyed in various colors, and a gradient color palette can even be applied.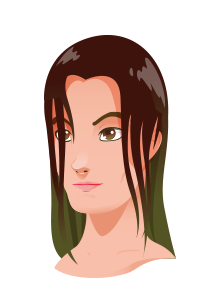 Long and straight classic haircut
For men who have naturally straight and hair, this style is very simple and straightforward, and can be styled into a ponytail or man bun.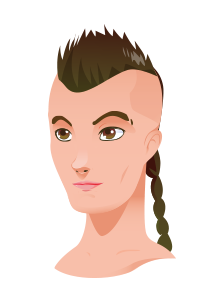 Mohawk with long Dutch braid and shaved sides
This is an upgrade of the Mohawk for men who have grown their Mohawk very long, long enough to be braided into a Dutch braid all the way until the tips. The sides are kept cleanly shaven to pronounce the contrast.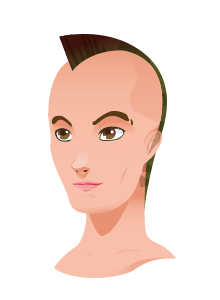 Buzzed vertical strip Mohawk
This Mohawk has completely bald sides, while the top Mohawk is shaved to reveal a clean, rectangular strip of hair all the way down to the nape.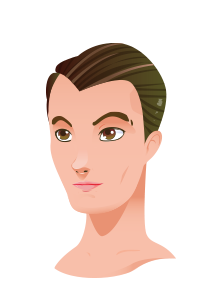 Low quiff with a widow's peak
This quiff has an emphasized front fringe that is shaped like a 'V' to resemble a widow's peak, and the sides are trimmed short.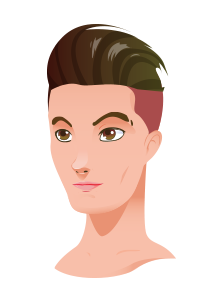 Bouncy brushed up with short sides
This hairstyle entails the use of a hairstyling product, such as a pomade or texturizing lotion to add volume when the long, top section is brushed up.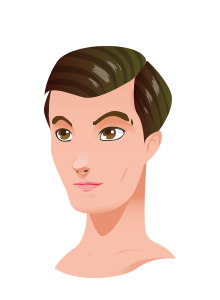 High volume dandy haircut with side part
This haircut is parted on one side, and the hair is layered and textured using texturizing lotion or hair wax to add volume and create curled waves.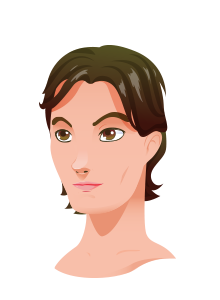 Wavy and flowy curtain fringe
For men who want to look a bit more dramatic, this style has a fringe that's kept long, reaching the middle of the cheeks so the fringe can be swept on the side or covering the eyes, like a curtain.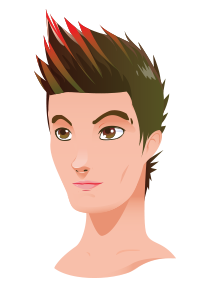 Straight up spikes with red highlights
To get a funkier, edgier look, spiky hairstyles can be given an extra spice with the addition of bright red highlights, which can be done on the tips only, or on several strands from root to tip.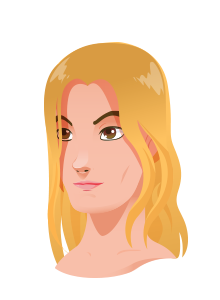 Long and wavy with subtle highlights
This haircut is ideal for bohemians and artsy types who choose to carry their hair very long. The lower part of the hair can be given some soft waves, and the addition of subtle light colored dyes to achieve a gentle, sun-bleached look.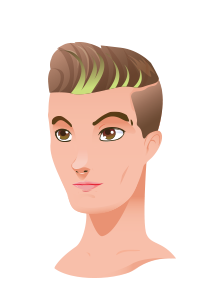 Highlighted pompadour with subtle waves
This pompadour is made even trendier by including light colored highlights that emphasize the pomp's brushed back waves.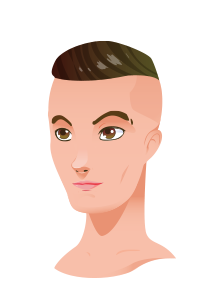 Razor sharp military cut with angled hairline
This military cut is given a more masculine edge by introducing a box like hairline that adds straight corners using a razor. This look can be very macho and polished.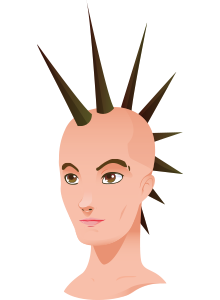 Classic punk liberty spikes Mohawk
This type of Mohawk is more pronounced than the classic Mohawk, because the liberty spikes go all the way around the head, creating a literal head full of spikes that are typically at least 3 inches or more in height.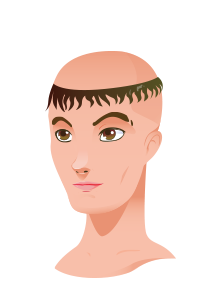 Historic and classic monk tonsure haircut
Monks and people in religious sects popularize this haircut. The top of the head is shaved bald, and the surrounding hair under the crown is left cut short and bowl-like.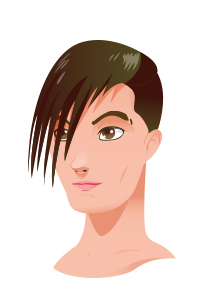 Dramatic and edgy elongated forelock
The sides of this haircut are tapered, while the front section is at chin-length. Styling products are applied to create an exaggerated forelock.
91
Approximate Price: $100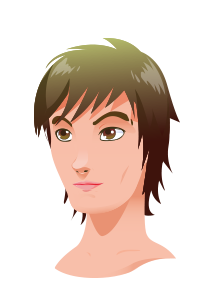 Layered curly hair cut with jheri curl sideburns
For men with naturally curly hair, a layered cut can tame down the curls, while an added jheri curl on each side creates some interest.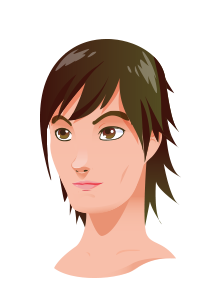 Long and chunky Asian style shag
For Asian men with naturally straight hair, this style suits them well. Shoulder length hair is chopped into layers with spiky ends, and a choppy fringe is added to complete the look.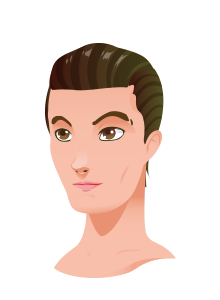 Combed back wet look with long fringe
This wet look hair is very sleek and modern. The sides of the hair are tucked behind the ear, while the front section is combed down and secured by gel to create a dramatic look.
Brushed up layered shag haircut
To create a more polished yet edgy look for men with a layered shag, the hair can be brushed up to create giant waves, together with the application of a hair gel or hair wax.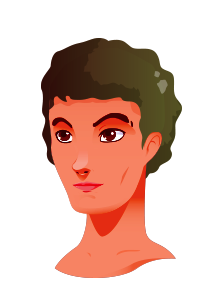 Rugged triangular curly top cut
This haircut is for men with naturally curly hair (or permed hair). The lower sides of the edges can be buzzed short, keeping the curly hair on the crown sticking upwards, with the top trimmed to create 2 soft corners on each side.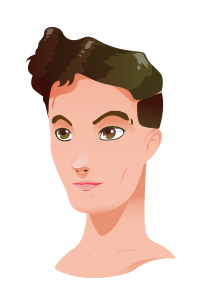 Retro 1920's dapper haircut with wavy top
This haircut has cleanly faded sides, with the top kept long. With the use of styling/texturizing products, structured waves are created on top of the head, with an emphasized front waved fringe.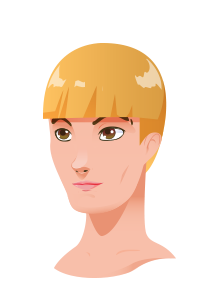 Eighties inspired curved back bowl cut
This is a unique take on the classic and reliable bowl cut, as the straight and blunt cut goes upwards into a curve, creating an interesting shape towards the back.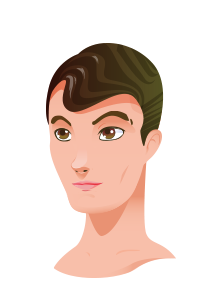 Side part with vintage finger waves
Men can also pull of the retro style finger waves. Hair is parted on one side, and the combed over side can be curled using a curling iron to create classic finger waves.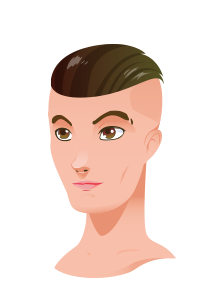 This cut is very modern and sophisticated, and requires the use of a flat iron to give that emphasized smooth, sleek and polished look.
100
Approximate Price: $40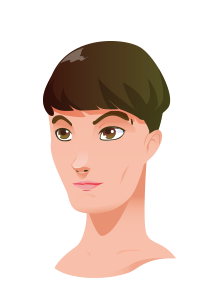 Contoured bowl cut with curved sideburns
This modernized bowl cut has a curved round shape all throughout, with a straight fringe that is combed down, and with uniquely cut sideburns that feature a forward-facing square angle.
101
Approximate Price: $15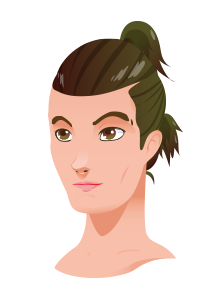 Double bun updo with frontal volume
This upstyle for men looks polished and sophisticated. The hair on top is sectioned off and secured in a bun that is loose in front to add volume, while the bottom section is secured in a tight bun.
Hairstyles for men have evolved greatly as seen in the many fusions of styles originating from the past and the present, as well as combining western and eastern cultures and looks. Men's haircuts need not be boring and dated, as there is a vast array of hairstyling possibilities out there that will suit the conservative to the most daring guy.