One thing that stands out when it comes Selena Gomez is her thick yet very sleek, pretty hair. The Disney Channel actress and accomplished singer always has a dazzling and sweet vibe but she does find some creative ways to reinvent her look using a variety of Selena Gomez hairstyles.
Although she is often seen as a simple girl with a modest fashion sense, she can also look perfect in more intricate styles.
Below are the most popular Selena Gomez hairstyles:
Hairstyle
Rating

Hairstyles

Straight and Long
7.5
Messy Curls
6.5
Medium Straight with Bangs on the Side
6.5
Braided Side Ponytail
7.0
Soft Curls in a Loose Braid
6.5
Princess Ponytail
6.5
Chic Updo
6.0
Cool Fringe
7.0
Stylish Bob
6.0
Retro Curls
7.5
Long and Wavy
7.5
Long Braided Updo
6.5
Pinup Hairstyle with Side Bangs
6.5
Wavy Updo
6.5
Medium Straight
7.0
Messy Curls
She also has a vibrant vibe that often appears whenever she wears her hair in messy curls. It looks fabulous on her and makes her so much fresher compared to her other hairstyles.
Medium Straight with Bangs on the Side
This hair style is often seen on Selena. While curls give off a bubbly vibe, this is a classic style that looks elegant and does not put emphasis on her chubby cheeks.
Braided Side Ponytail
Just like braids never go out of style with any other celebrities, Selena could wear one without looking drab. In contrast, it makes her look livelier and more attractive. She can wear it all day long outdoors or even when she goes clubbing with her friends.
Straight and Long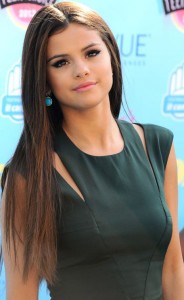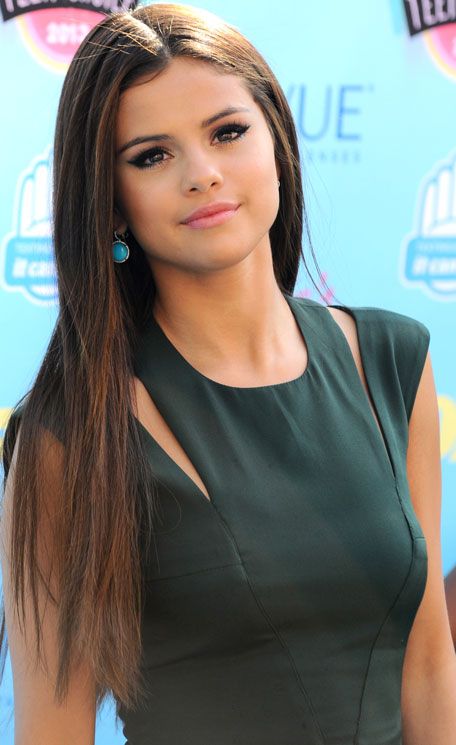 Perhaps her most elegant look of all, her long and straight hair suits her beauty perfectly. She wears it with a middle- part so it complements her face shape that is kind of round.
Soft Curls in a Loose Braid
Looking sexy can never too hard for Selena. By combining two hairstyles, she gets a hairstyle that perfectly creates a lovely frame for her face. This is achieved by curling the hair so softly then braiding the lower part into a side pony.
Princess Ponytail
The perfect hairstyle for a princess-like beauty. This is one hairstyle that speaks volumes of how bright a star Selena is in the industry.
Chic Updo
Selena's versatility can be judged on her different hairstyles. And she does so with so much elegance. A chic updo with messy hair strands shows her rebel side without overdoing it. Instead, the strands gave this classic style with a more modern approach. Puffing it up a bit made her face look less round.
Cool Fringe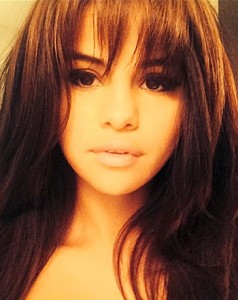 It looks completely different from her usual styles but it did not make her look less attractive. In fact, Selena looks fab with a straight fringe set on a medium hair length.
Stylish Bob
This is an adorable style for Selena who seemed to have frozen her age on her teens. This looks best on a thick hair and would suit a round shaped face.
Retro Curls
Selena may be too cute for a much mature look but a retro curl doesn't hurt every once in a while especially on very special occasions like red carpet gatherings.
Long and Wavy
This is one of Selena Gomez hairstyles that catch everyone's eyes. She matches it with smoky eyes also known as grown- up make- up for the forever teen beauty.
Long Braided Updo
For some particular occasions, Selena likes to play it up and have a strong, independent woman vibe with a long and braided updo. This do not only gives her an edgy look, it also makes her look more mature in a very good way.
Pinup Hairstyle with Side Bangs
Sometimes, when she opts for a not too formal look but still wants to make it seem very special, a pinup hairstyle with side bangs does the trick.
Wavy Updo
This is her glam look in various awards nights where she gets to wear smoky eyes and sultry make-up.
Medium Straight
This is her casual style where she gets to let her hair down without worrying for too much fuss in creating it. The simple hairstyle is best worn whether on the beach or on friendly dates.
All these hairstyles transform Selena Gomez from being a teen star to a more mature singer-actress. She is pretty lucky to have thick and silky hair that is easy to style. With every style that she chooses, she always sees to it that she also wears appropriate make-up, clothes and accessories. She is careful with how she appears in front of her adoring public and always thinks of new styles to make her look interesting but without any drastic changes to bring her her down. This is probably why throughout the years; Selena gets prettier and more youthful.
Whether it's short, medium, or long hair it always goes down to the person who wears it. These Selena Gomez hairstyles look great because she has the personality to go with each one and she is never afraid to try out new things to improve her look.