Rihanna's looks are always the talk of Tinsel town. It is always new and appealing. And while she always looks alluring no matter what style she opts for, she never forgets to change the look of her nails too. Rihanna's nails have luxurious designs and glamorous nail colors and that is why she is considered as one of the most stylish celebrities when it comes to their nails. Because she is a trendsetter, she knows what she wants and what people want as well. With her long list of nail designs, our favorite pop singer has her share of nail secrets which we reveal here.
Treat Your Nails as an Important Fashion Accessory
Aside from her hair, the "Diamond" singer sees to it that her nail design is ever-changing. With lovely nails, she shows off her most beautiful accessory and makes sure that she starts another nail trend after an event. Rihanna's nails are always showed off with confidence and glamor that it why it always catches the attention of many.
Once you get to see her loud nail colors like neon, it surely says something that you wouldn't miss. It has a life of its own that makes the pop princess more attractive and attention worth it.
Below are the most popular Rihanna nail styles:
Shape
Color
Design

Nails

Almond
Dark Red
No
Almond
Nude
No
Almond
Black/Nude
Yes (Gradient)
Squared
Dark Green
Yes (Glitter)
Squared
Yellow
Yes (Smiley Faces)
Squared
Red
No
Almond
Pink
No
Squared
Yellow
No
Stiletto
White/Gold
Yes (Gold Pointy Tips)
Almond
Clear/Gold
Yes (Gold Tips and Spikes)
Super Long Nails
According to Kyees, Rihanna's manicurist, the pop artist wants to maintain long nails. According to her, her client is okay with her nail length as long as she can still type in her iPhone. Even if it is difficult to maintain very long nails, she was able to do it. Long nails are a sign of good health.
Try Inventing
According to Kimmie Kyees, Rihanna's Los Angeles-based nail stylist, her client invented the nail design called "square narrow-shape acrylic." She was also spotted at Grammy's wearing stiletto nail trend. Rihanna is very involved in designing her nails, and she always comes up with her design. She was also seen wearing Minx, an online customizable nail art. Together with other artists, she rocked the nail world with her Minx designs. Obviously, she is not afraid to show a different and loud colors and designs. She has no fear of declaring her favorites as well. In Instagram, she once declared that she like mint créme color from Artistic Nail Design Colour Gloss in Charming, which garnered at least 190,000 likes.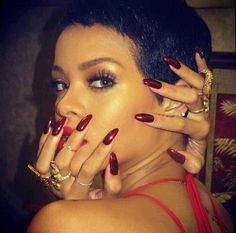 Our pop princess loves acrylic because it makes her nails stronger and more durable once it gets dry. It is also her secret why she can change the shape and design of Rihanna's nails anytime she needs to. With acrylic, she can do so much with her creativity. Nobody can stop her from applying a color and accessories into it.
Aside from inventing, Rihanna nails also tries re-inventing. Spiked Claw Nails that she also posted in Instagram. She achieved a dramatic and dangerous look because of it start point. This sexy look is indeed a jaw-dropping nail art for our pop star. Although not suitable for everyday wear, this look is stunningly gorgeous at an evening event.
Good Choice of Manicurist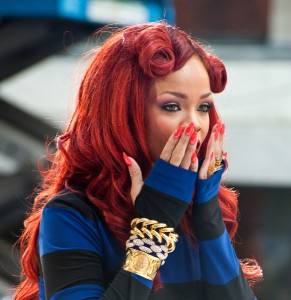 With renowned nail artist, Kimmie Kyees, on her side to do her nail designs, Rihanna is guaranteed a fantastic result. It is important that she does not simply hire the best, she has a good relationship with her. These two has been working together for years. Som even if Kyees has other celebrity clients, she still sees to it that she takes good care of the "Umbrella" singer's nails. Being able to work with a celebrity adds a lot of pressure and stress especially if the client needs to go to an important event. But if your manicurist is a professional with a lot of experience, and she knows what you want, you won't have any problems at all.
Demand Perfection
It must be the most important reason Rihanna's nails has set the standard of nail trend. Rihanna always wants her nails to be perfectly nice. This can easily be achieved if the whole process of designing, applying color and trimming is done right. Not only does she have a great manicurist, but acrylic also helps her to achieve the look she wants every time.
Just like our hair and make-up, it is also nice to take good care of our nails and show it off during important events. Rihanna's nails is a dream of every girl. She is not only successful in her singing career, but she is also successful in becoming the most talked about celebrity when it comes to hair, makeup and nails. She has fantastic nails every time because she treats her nails as her greatest fashion accessory. She sees to it that everybody gets to appreciate her beautiful, polished nails and we all take notice.