If there is one thing about RiRi other than her music, it would be her chameleonic Rihanna hairstyles. Rihanna changes her hair in the same way she changes her wardrobe. One minute she's all covered up with lustrous long locks and the next moment, she's out and about wearing nothing but barely-there pixie cut.
She even had at least eleven (yes, you heard that right!) different hairstyles in her Disturbia music video. The best thing about RiRi is her capability to carry anything (or everything) with grace. From 2005 up to the present, let's take a quick glimpse to her mane's glory.
Below are the most popular Rihanna hairstyles:
Hairstyle
Rating

Hairstyles

Long Brunette Curls
6.5
Straight Locks
6.5
Sleek Long Bob
8.0
Fiery Red
6.5
Full Fringe with Blonde Highlights
7.0
Wavy Blonde Quiff
6.0
Blood-Red Curls
7.5
Wavy Bob
7.5
Music of the Sun 2005
Young up and coming Barbadian princess, Rihanna, steals everyone's heart not just with her sultry beat but with her innocent long brunette curls. Her long waves can sometimes be seen accented with cornrows on one side and loose on the other.
Versatility is one advantage of having long curly hair which RiRi does best. She wore it in 101 many different styles or accessorize with a princess headband, scarves or wraps, and still look ultra chic without being too glamorized, a complete representation of her youthful music vibe at 17.
A Girl Like Me 2006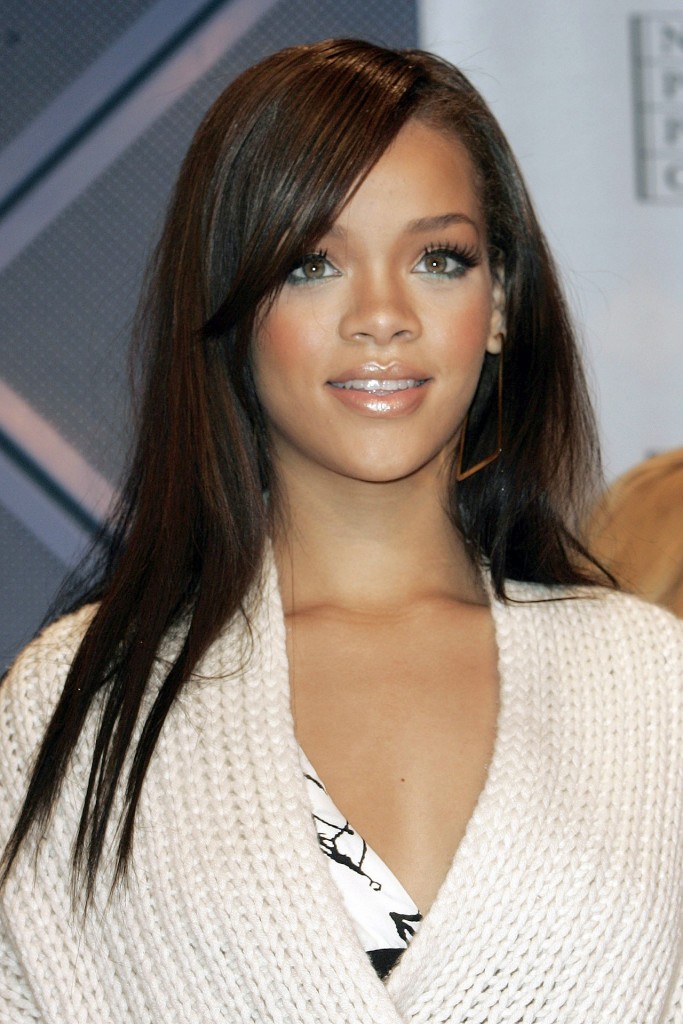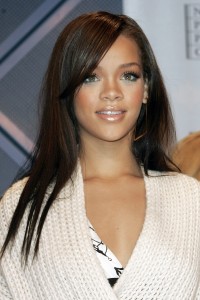 A year later, she released her second album, A Girl Like Me, channeling a young Whitney Houston on its cover with fabulously wild straight locks accentuated by her bedazzling eyes and kissable lips. This is the very look that transitioned Rihanna from her tweetum days as a singer to an edgier style in music notable in her succeeding albums. Take for example the super-straight locks complemented with a sweeping fringe she wore while attending the Kid's Choice Awards in California in April of that year then, three months after, a blown-out flicked waves in mahogany for the MTV Video Music Awards in NYC and yet, gone back to sultry long straight perfection parted on the side as she ooze sophistication when attending the Nobel Peace Prize Press Conference in Oslo. Though she maintained a dark hair color, this opens her entry to the world of uniquely Rihanna hairstyles and fashion ideologies that are entirely her own.
Good Girl Gone Bad 2007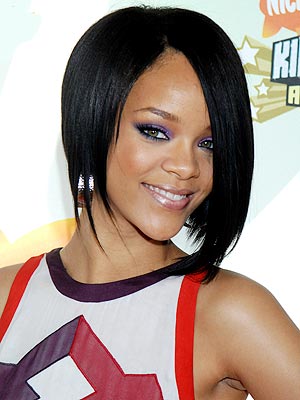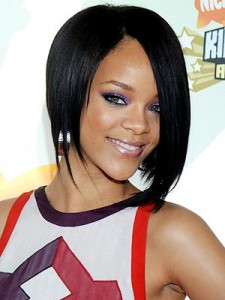 The early part of 2007 ushered for Rihanna an outlandish but uber captivating new person, both in music and in her sense of style. In February at the Grammy's in LA, she debuted a sleek long bob completed with subtle yet striking highlights. This hints the new image being presented on her album, Good Girl Gone Bad. Shifting to raven black, she showed off with a super straight chin-length bob with a blunt fringe, a look she rocked while attending the MTV Movie Awards. Her album cover also features a asymmetrical cut that goes beyond her usual simple bob made even edgier with uneven lengths and with a risqué pose completely paving the way to a new brand of RiRi style. Clearly, this is where a "good girl gone bad" begins.
Rated R 2009
Rihanna hairstyles and hair color from 2008 to 2009 changes month after month. Signaling tumultuous years due to her involvement with Chris Brown, she went fiery red on sweeping curls at one time and, then a month after she went for ink-black lazy straight. There is no perfect guess what she will rock next, quite in the same way as her ever changing moods and the reports riddling various tabloids across the globe. In the cover of her Rater R album, still from Def Jam Records, the Barbadian princess channeled her inner punk rock chic with her eyes painted with catlike eyeliner and goth-like dramatic lips. A few months after, she rocked an entirely new full fringe with blonde highlights as an addition to her now-signature edgy short hairstyle in the Christian Dior fashion show in Paris.
Loud 2010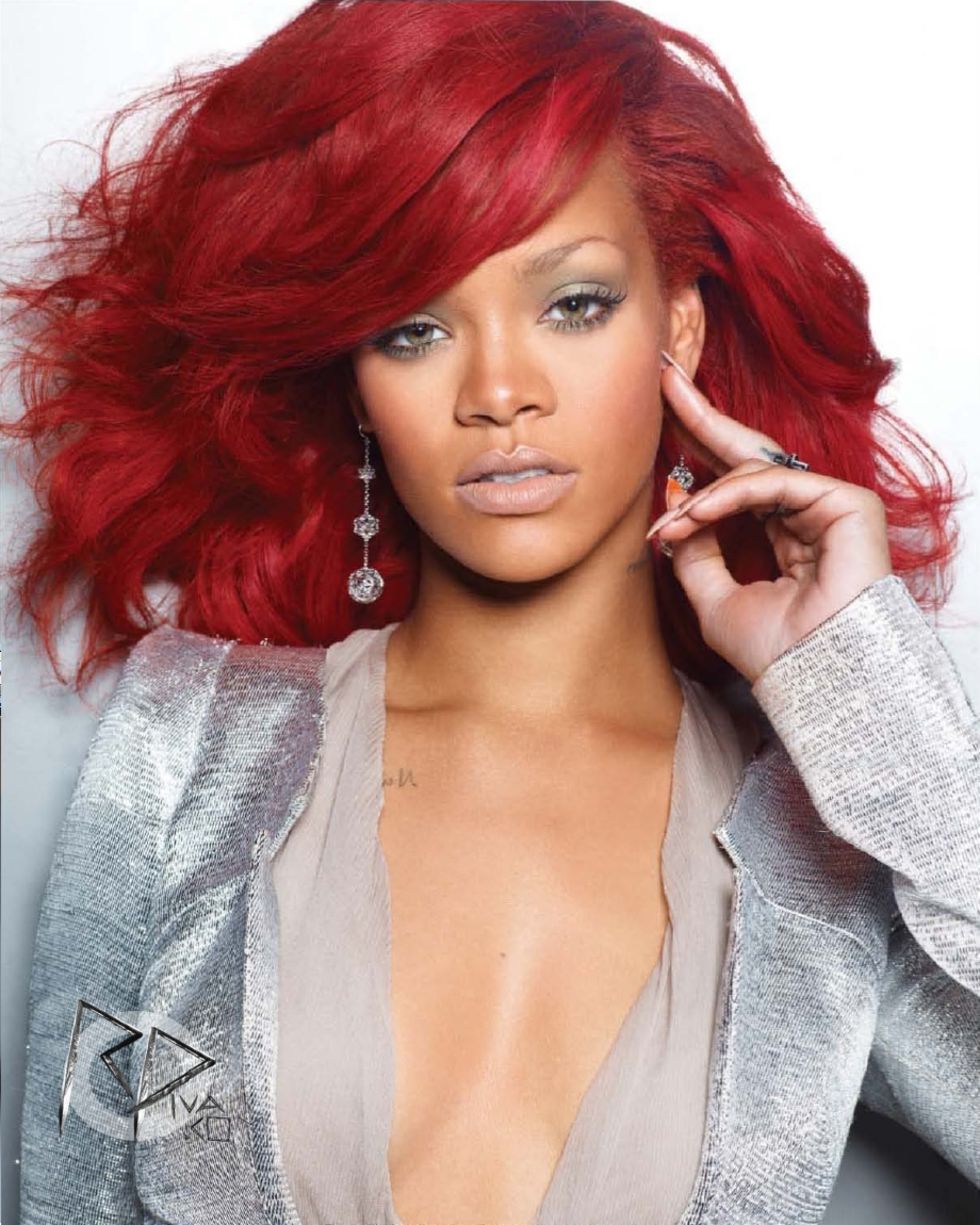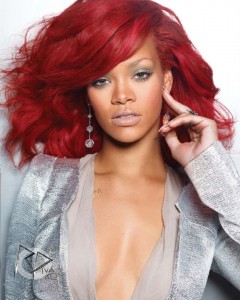 It is one thing to change from long to pixie, curly to straight, but fiery red? Yes, entirely unique Rihanna hairstyles extraordinaire! Imagine that a few months prior, she won the International Female Artist of the Year award turning heads with shaved sides on a wavy blonde quiff. In June of 2010, however, her scarlet red quiff had tinsel town eyes a-googling. She also channeled a modern-day Lolita a few months after complete with blood-red curls carefully tied back with a sassy chiffon bow. In November, she then traded her curls for a sleek and tidy straight style still in fiery red to launch her Loud album.
Talk That Talk 2011
In February, ever-changing Rihanna hairstyles made a yet astounding shift from straight to voluminous tight curls, as such her look when she attended the pre-Grammy SoHo House brunch with fellow artists. But in May changes to a demure wavy bob as she graced the Billboard Music Awards in Las Vegas. But, on that same month, she performed at the Rockefeller Plaza in NYC with a retro rolled style hairdo complete with extensions reaching her waist. Truly, each day was a busy hair day for Rihanna in 2011.
Unapologetic 2012
Rihanna went pixie in her 2012 album, Unapologetic. The flame of the pixie cut burn some light into the ever-changing Rihanna hairstyles in the same way as Audrey Hepburn did in her time. Though this is nothing new to RiRi as her style has always delve on the shortest of the short do, seeing it on her album along with a provocative picture of herself made it even more, shall we say, unapologetic.