Pink is a musician who is not afraid to speak her mind, she expresses herself on many platforms, and style is one of them. On the occasions that Pink's nails are painted they do not demure from making a statement. They are bold.
When thinking of style, women tend to place a lot of emphasis on their make-up and picking the right dress or shoes. Nails tend to be an afterthought, and sometimes the color choices come across as generic or just out of place with the overall vibe of the outfit.
Nails are a crucial part of an outfit, and with today's nail art, some might even argue that they are jewelry. We are used to red nails, but what about a deep wine red? Or a stunning orange? Pink does all of this and without much effort it would seem. She is tough as nails, and her nails prove that she is a risk taker.
Below are the most popular Pink nail styles:
Shape
Color
Design

Nails

Squared
Orange
No
Squared
Chocolate
No
Round
Pink
No
Round
Gold
No
Squared
Red
No
Squared
Nude Pink
No
Squared
Nude
No
Lush Orange Nails
Pink became one of the faces of Covergirl in 2012. For her first campaign she wears a rich orange on her nails, anchoring into the jewelry she is wearing. She wears a thick orange pinky ring with slight detailing and an orange necklace, all set against a dramatic and slightly futuristic black outfit.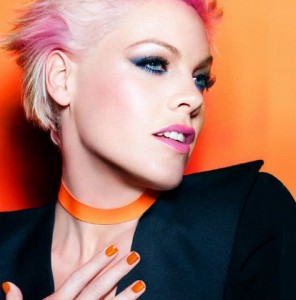 The color is both fun and courageous. When was the last time you rocked orange nails with a black dress? If never, now might be a time to try. Your nails could be the focus of interest in an otherwise mute outfit, or part of a general theme, say if worn with orange heels or jewelry like Pink did.
Shimmery Chocolate
For the cover of the Advocate in November 2012, Pink wears a black blazer with pointed shoulders, a black see through dress and a black corset. With such a theme set you would probably be tempted to go with black nail polish, and I would not blame you.
Pink went with a deep shimmery chocolate color. The color plays into the dark concept, while alleviating the mood a little. A color like this adds drama when used on Caucasians, and with darker skin types it becomes playful and fun.
Bright Pink
Crazy how rarely someone named Pink wears the color pink, but when she does it pops. On the June, 2013 cover of Glamour Pink wears a net detail dress with no jewelry, save for a pair of deep blue ear rings. Her nails are a gorgeous bright pink, anchored by lipstick in the same shade. Pink here is a statement color, beautiful, feminine but tough.
Triple Color Nails
For the outlast stay brilliant nail gloss Covergirl campaign, Pink's nails have three colors. The base of the nail is black, the middle is midnight blue and the tips are gold, they are then coated with a shimmer and gloss. This is a great look if you plan to wear a lot of silver and black jewelry. It is bold and striking.
Gold Nails
For her Truth About Love tour, her stylist chose nail gloss in gold color because she said that it shines on stage. Next time you are in a crowd and you want to stand apart from the regular crowd, try gold, you may just catch someone's eye.
Wine Red Nails
Sometimes you just want to channel your dark side, and for Pink's November, 2012 Rolling Stone's cover she does just that. She rocks a black corset dress, black dagger-like earrings and her nails are an intoxicating wine red. This is also a statement color. Very goth but not yet emo.
Nude Pink Nails
Nude is a color we are slowly becoming accustomed to seeing on the red carpet. In daily life it works well for occasions when you need to tone down on color, or maybe if there is so much else going on in your outfit and you just want to keep your make-up muted.
For the 2014 Grammy awards, Pink came dressed in a gorgeous red dress. Her nails were painted with a natural color nail polish over pink. In this case her nails, look lovely without detracting from the dress.
Nude Nails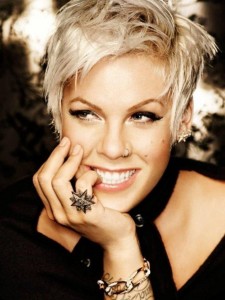 For Covergirl's Tru Blend foundation campaign, Pink wears a white dress, silver jewelry and her hair is pink-tinged blonde. It is a clean muted theme, designed to accentuate natural beauty. A nude nail polish is perfect for this.
Pink's nails show that nail polish is an easy way to set the mood of an outfit, or if you want to stand out from the daily noise you could always put on a bold new color that makes a personal statement. Or sometimes you want to tone it down, but don't want to leave your nails unadorned, you could always do the nude tones. Either way you have options.