The world has been gifted with a multitude of musicians and songwriters throughout modern history. Through the years the general public has always made it a point to ensure that they can emulate these popular figures. Often musicians and celebrities exert a major influence in the fashion and hairstyle of their generation. In the 60s, men's fashion was dominated by the Beatle-mania for years, the mop-top haircuts, the Cuban-heeled, ankle-length pointed boots. Every man wanted to be them and every woman wanted to be with them.
The same trend of mimicking celebrity looks have continued even to this generation, the only difference is, unlike in previous decades, there are so many celebrities and musicians shooting up from every region in the world that it becomes a headache to keep track of what are in and what are not. Luckily for us, the internet has made it easier to keep track of celebrities from the palm of our hands making sure that we are at the center of fashion trends at all times.
Below are the latest Pink hairstyles:
Hairstyle
Rating

Hairstyles

Original Pink
6.0
Punk Spikes
6.5
Choppy Brunette
5.5
Wavy Asymmetrical Blonde
6.5
Blonde Bob
6.5
Pompadour
7.0
Pink: Missundaztood
Each celebrity has their unique fashion sense and each has made a significant impact on what their fans wear. For singer-songwriter P!nk, her unique style has always been quite controversial, to say the list. Alecia Beth Moore, better known by her stage name, P!nk, was initially a member of the girl group Choice.
P!nk would move on from the group and launch her own career as an R&B artist with her debut solo album in 2000, Can't Take Me Home. Since then, P!nk has launched album after album of hits that have made it to the prestigious top 10 of the Billboard Hot 100 and among the U.S. Top-ten singles. Songs such Lady Marmalade, Get the Party Started, Don't Let Me Get Me and Just Like a Pill, were among her top singles during the initial stage of her career.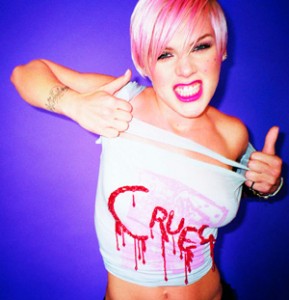 P!nk took a hiatus from the music industry after her career lost some traction when her third album "Try This" in 2003 failed to generate sales as great as her previous albums. P!nk would later return to the stage in 2006 and 2008 with two new albums that would contain her second U.S. number-one hit So What. P!nk ended the first decade of her career on a high note with her album Greatest Hits…So Far, in 2010, which featured the chart-topping single Raise Your Glass. Her most recent album, The Truth About Love, was launched in 2012 with provocative titles such as Blow Me (One Last Kiss), Try and her most successful single to date, Just Give Me A Reason.
The Signature Pink Hairstyles
True to her namesake, P!nk rose to prominence not just for her strong signature voice and amazing acrobatic ability on stage but also for her amazing hairstyle that featured her namesake. P!nk started off her career that really accentuated her inner punk, initially with a magenta hairstyle that is typical of most female punk artists. However, P!nk must have thought that a simple haircut and dye were not enough for her to express her inner ferocity. P!nk kept her hair's magenta color and then opted out of her tame haircut and into hot magenta spikes that were out of this world.
Being described as out of this world is completely appropriate considering her hair looked like tendrils coming out of an alien organism which landed on her head. Admittedly, the hairstyle was an attention grabber and achieved its purpose. It got people talking. If you think coloring your hair was not enough to get the attention of your peers, then going all out with punk spikes is certainly the way to get them talking. Just do not come crying when HR or your principal scolds you for the wild rebel hairstyle.
The End of the Rebellious Stage?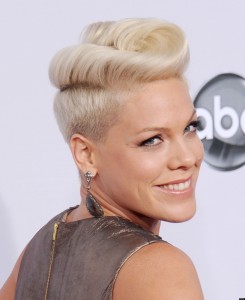 After coming out of her brief hiatus from the Billboard charts, P!nk decided that the days of being a Punk rebel were already at an end. P!nk moved on to a more controlled (by her standards) brunette hair that featured the ordered chaos of a choppy hairstyle. P!nk would often pair this new hairstyle with a mini top hat to finish off the rebellious ensemble. Everybody expected P!nk to continue tempering her wild hairstyles from here, but being the wild child everyone fell in love with, the artist continued to make waves with her hairstyle. P!nk would later be seen with wavy asymmetrical hair. This time around however, she looked gorgeous in blonde.
P!nk would follow up on her gorgeous locks with a tame bob hairstyle. Eventually moving on to its present iteration, she adopted the glorious platinum pompadour that is taking Hollywood by storm. If you think only the King of Rock and Roll can sport the sleek pompadour then you have another think coming.
Whether you love P!nk as an artist or not, you have to concede that she has one unique sense of style, particularly when it comes to her hair. Sure there are times that her hairstyles were outlandish and out of this world. More often than not, however, she nails it.