Nicki Minaj Nails
Nicki Minaj is known for her music and daring fashion sense – from dyeing her hair pink to wearing neon animal prints – she never holds back when it comes to her style. Take her nails for example; the 'Nicki Minaj nails', as most fashion magazines call them, are often patterned among the craziest and extreme designs out there.
"When she got engaged, everyone was not just talking about her heart-shaped diamond ring but also how insane her manicure at that time she showed off her engagement ring," Melanie Richtman of Bustle writes. "I can't stop staring at Minaj's multicolored mani. Each brightly colored nail is impeccably done and I'm having some serious manicure envy. It's taking all of my will power not to run to a nail salon right now."
Below are the most popular Nicki Minaj nail styles:
Shape
Color
Design

Nails

Almond
Gold
No
Squared
Pink
No
Almond
Clear
Yes (Glitter)
Almond
Black
Yes (Texture)
Almond
Black/Gold
Yes (Studs)
Squared Oval
Black/Yellow
Yes (Polka Dots)
Squared Oval
Pink/White
Yes (Polka Dots)
Stiletto
Pink
Yes
Squared Oval
Multi-Colored
Yes (Various)
Disclaimer: Prices shown above have been sourced from individual salon and spa visits and other online sources. They may not cover recent changes. Contact the salon or spa directly to find the exact pricing information.
Almond-Shaped Nails
This is ultimately Nicki Minaj's signature look for her nails as most of her designs use this as base. This has trended among fashionistas although it is pretty difficult to maintain. Bustle believes Nicki is using acrylic nails as it is obviously easier to maintain due to its exaggerated shape.
If you are not a fan of acrylic nails or just simply consider them as ridiculous for daily use, make sure you have strong nails as it will be impossible to re-create this using natural nails. Keep them long and filed regularly to avoid chipping and breaking them.
Pink and Squared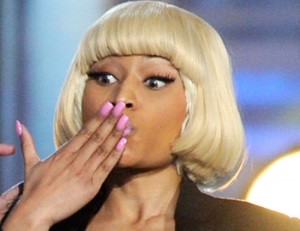 The pink nails with square-filed tips Nicki wore during the "All Pink Party" in South Beach Miami last November 2, 2010 and 2011 MTV Movie Awards at the Gibson Amphitheatre in LA last June 5, 2011 has catapulted her to nail heiress stardom. Her use of the almond-shaped base while keeping the actual tip neatly filed was simple and girly, which contrasted nicely with her personality.
To re-create the look, opt for light, bridal-themed pink hues like the ones sold by brands OPI, L'Oreal or Zoya.
Clear and Glittered All-Over
When Nicki posed at the red carpet for the FOX Winter TCA All-Star Party in Pasadena, California last January 8, 2013, everyone was amazed at how funky and colorful her nails were. She kept her signature, almond-shaped nails long then added glitters on colorless nail polish. It made her nails literally shone whenever the light catches them.
To re-create the look, use a clear, colorless nail polish base then sprinkle glitters on the polished nails. To have it look more concentrated, you can dip the tip of the brush on glitters then drop it slowly on your nails, creating small drops of glitter polish.
Black and Ivory Stud-Covered Nails
The nail design Nicki Minaj wore at the 2014 MTV Movie Awards at Nokia Theater last April 13, 2014 has made the eyes of all nail aficionados green with envy. It is one of her best looks – different designs per nail and covered with studs and bling – which has made Nicki a fashion icon when it comes to nails designs.
To re-create the look, you can choose OPI nail lacquer in N15 metallic 4 life black polish and as ivory is too expensive, you can use for glitters or sequins. Top it with a clear, colorless polish for a more sophisticated finish.
Black and Gold Jeweled Nails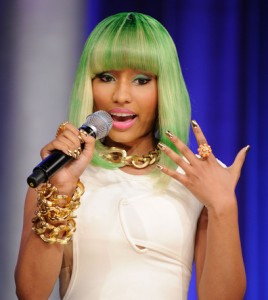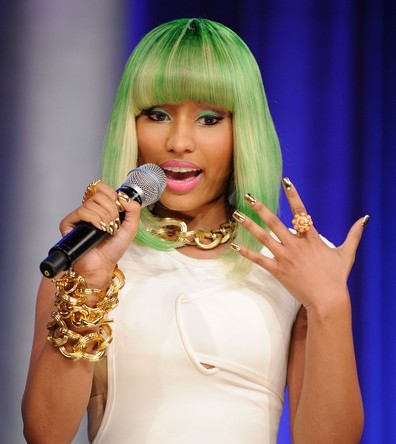 When the color gold became trendy, Nicki used it as the theme of her next design, which she debut at the movie premiere of 'The Other Woman' in Regency Village Theater last April 21, 2014. It has made her hands and nails look like a thousand bucks.
To re-create, look for a nail polish that has a subtle gold color like that of OPI, Butter or Zoya. Then, make use of gold-colored studs to make it shine like jewelry.
Polka Dots with Bright Colors and Diamond Accent
Similar to what Nicki used when she debut her engagement ring from fiance Meek Mill, this design is by the far, the easiest design to copy especially with the use of affordable tools and nail colors.
To re-create, you can use the 'geometriks' nail wraps from NCLA, following a color and design scheme of pink dots with black stripes, teal dots with black stripes, and teal background with black geometrical shapes as design.
To conclude, Nicki Minaj nails designs have evolved from almond-shaped nails to glitter and studded with blings, up to the colorful and vibrant whimsical designs. She formerly preferred to use her natural tips but has probably found it difficult to maintain. Anyway, her use of the acrylic nails have made the public and all nail aficionados realize how easier it is to change designs without destroying the nail's natural enamel.