Nicki Minaj Hairstyles This website is not associated with Nicki Minaj
If there is someone with a lot to say about anything, it is Nicki Minaj, and we're not just talking about her rap skills. Her style is trendy, with a bent towards big fashion brands such as Balmain and her Nicki Minaj's hairstyles are not far behind.
Nicki Minaj's hair choices are wild and colorful and they reflect her big personality.
Below are the most popular Nicki Minaj hairstyles:
Hairstyle
Rating

Hairstyles

Purple
6.0
Curly Pigtails
6.5
Bees and Leopards
6.0
Triangular Wig
5.0
Pink Bob Wig
5.5
Pink, Yellow and Blonde Coils
6.0
Blonde and Blue
5.0
Pink, Curly Bob
7.0
Pink and Green
5.5
Just Blonde
6.5
Back to Black
6.5
Purple
While promoting her album Pink Friday, Nicki Minaj donned a lavender straight-haired wig. In the theme of bubble gum color choices, it added to the playful but hard-hitting vibe of her album and worked well with her multi-colored outfits. If you ever feel like you want to take a walk on the wild side, you could always start here.
Curly Pigtails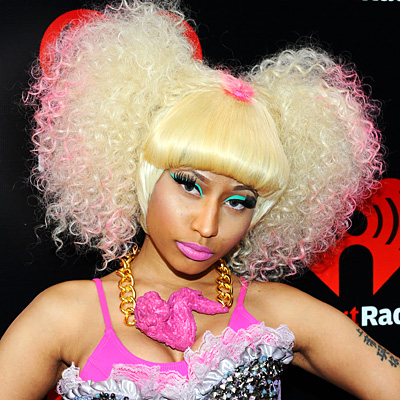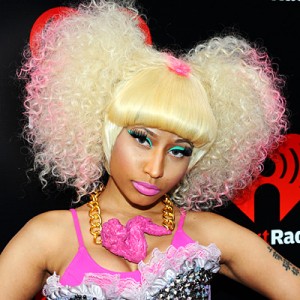 In 2011, Nicki Minaj was spotted at the iHeart Radio Music Festival in a blonde wig with massive curls on each side. She wore a pick frock with metal detailing, and a gold chain with a pink fried chicken. Yes, you heard me right, a fried chicken. This look is her through and through, it channels her inner impetuous child beautifully.
Bees and Leopards
For the 53rd Annual Grammy awards, Nicki Minaj donned a tall, blonde, curly beehive wig with a black streak in the front. The lower section was styled into a leopard print bob, to match her leopard print outfit. Only the Roman's Revenge singer could pull off a look so wild and outrageous.
Triangular Wig
For her VH1 Divas Salute The Troops performance, she turned up in a blonde, triangular construction with pink streaks. It worked perfectly with her bright orange and blue outfit. This looks just beams courage with a hint of insanity, and isn't this why we love her?
Pink Bob Wig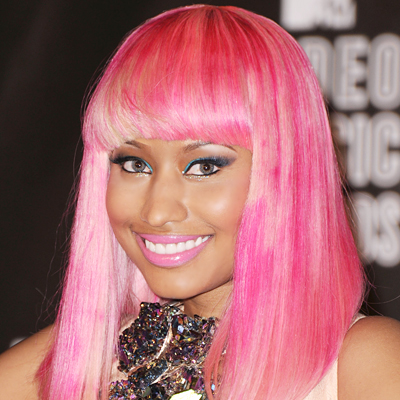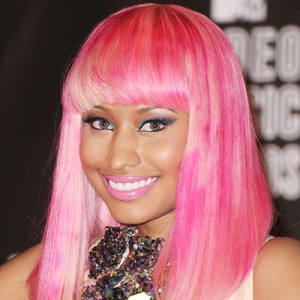 Nicki Minaj showed up at the 2010 MTV Video Music Awards awards wearing a bright pink wig, with bangs in the front and a long bob cut at her shoulders. Later in the year, at the American Music Awards she turned it platinum blonde and dip-dyed the ends green. Even later in the year, the ends became striped with green, blue and pink. She definitely does not shy away from color.
Pink, Yellow and Blonde Coils
At the 2011 MTV Video Music Awards, Nicki Minaj showed up with a mass of pink, yellow and blonde coils in an up-do, the rest was a blonde bob. She paired this with an ice-cream cone necklace and a colorful surgical mask. If more doctors dressed like this, maybe we would be less fearful of our annual flu shots.
Blonde and Blue
As if Nicki Minaj's hairstyles could not get any zanier, she showed up at the 2011 American Music Awards with a long wig that was blonde on one side and a sapphire blue on the other. Maybe she was attempting to express some internal conflict. If you ever try something like this, stick to one color, people will forgive Nicki Minaj but probably not you.
Pink, Curly Bob
To accept her awards at the 2011American Music Awards, the Pills and Potions singer switched out of her dual colored wig to a curly, pink bob. Pink is a Nicki Minaj favorite in terms of color, and she does it well. The look was playful, and it undid the atrocity that was her previous wig choice.
Pink and Green
For the 2012 Video Music Awards, she donned a blonde wig with tinges of pink and green scattered throughout. On anyone else it would look like a wardrobe mishap, but Nicki carried the colored do with her usual devil-may-care attitude. Everyone needs to channel a bit that.
Just Blonde
For her stint on American Idol, Nicki Minaj went for a pure blonde do, no added colors. Just a chic long weave down to her lower back. It was a clean look, and telegraphed to the world that a diva was in town. In February, 2013 she updated the look with soft curls at the ends and dark roots, paired with pink lipstick and a white dress she was almost ethereal.
Back to Black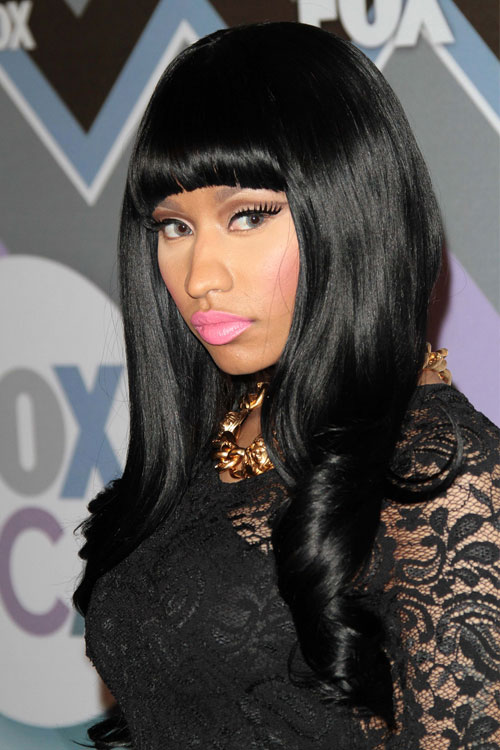 Turns out Nicki's natural hair is really long, and it goes all the way down to her waist. In 2013, she tweeted a picture of it saying that she intends to wear it all natural from there onwards, and she has kept her word since then. For her appearance at Beyonce's Run The World Tour she wore it in a high pony tail, and in her recent video for Feeling Myself she wears it alternatively frizzy and straight.
Nicki Minaj's hairstyles started off wild and crazy, and she has been mercurial ever since. Now that she has entered this new era in her music career, of maturity and style we expect to see more of her former daring but with refined taste. Though we would not be surprised to see a relapse into psychedelic wigs.