Miley Cyrus Hairstyles
Destiny Hope Cyrus (nicknamed Smiley Miley at birth) embarked on a showbiz career at age 9 and hit it big with the lead role and acting alongside her father in "Doc" and "Hannah Montana" beginning 2005. The role of a teenager leading a double life as a pop star rocketed her to fame. Her sunny disposition as "Smiley" and talent as a songwriter for dozens of tunes used in the show resulted in hit records throughout adolescence, sell-out tours, international fame and merchandising deals.
As a Disney contract star, there was little Miley could do to change her looks. However, her long, brown and curly hair was an asset. The star preserved her wholesome good looks with layered cuts, high- and lowlights in mildly contrasting colors of blonde and black. These served to add body and fullness to her do's. In the beginning, she also employed curling lions and curl-enhancing lotions to add bounce, spirals, and a somewhat tousled dimension to her locks. Until, that is, she finished shooting for the movie version of "Hannah Montana".
Below are the most popular Miley Cyrus hairstyles:
Hairstyle
Rating

Hairstyles

Layered Cut with Highlights and Lowlights
7.5
Curls
6.5
Medium Cut
6.0
Ultra Short Cut
7.0
Brunette Locks
8.0
Bouffan Bob
6.0
Textured Medium-Length Bob
6.0
Disclaimer: Prices shown above have been sourced from individual salon and spa visits and other online sources. They may not cover recent changes. Contact the salon or spa directly to find the exact pricing information.
Running Wild and Twerking
Released from the Disney constraints, Miley Cyrus leveraged her husky voice, striking good looks and modernized her hairstyles beginning with successive sell-out's gigs in two European and South African tours in February 2008 ("Best of Both Worlds") and "Wonder World" tour in the Fall of 2009. The fabulous brunette tresses soon gave way to varying hair styles from shoulder-length, medium cuts to ultrashort and blonde.
Still, Miley could never let go of her original hair style, returning to her untamed and long brunette locks soon after adopting the shocking blonde pixie crop for her high-voltage "twerking" performances at the 2013 MTV Video Music Awards. Before twerkin' and her peroxide pixie moment, Miley regularly tuned up with Pilates in 2011/2012 and kept her brunette hair up in a topknot.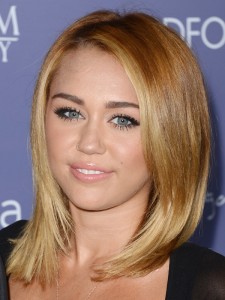 At a celebrity event, Miley turned out in a textured medium-length bob with gemstones on one side. At yet another celebrity appearance, Miley opted for a bouffant bob atop a retro tuxedo and nothing else. Another variation on high impact hairstyle with the radical cut was a medium-length, "dip-dyed" hombre bob. Less edgy in 2011 but consistent with being the hair and beauty chameleon that she is, Miley did a whole side-swept Veronica Lake Hollywood do of deep chestnut brown with rich thick gold highlit extenders.
The singer celebrity is nothing if not inventive. In preparation for the 2013 holidays, Miley astounded her Instagram followers who all thought she had dip-dyed her long tresses neon pink. Turned out to be a wig, after all. After spending most of 2013 a blonder shade of blonde, Miley's toned down to a two-toned dip-dyed look of her now-signature shorter crop.
Miley's hair has seen some ups and downs in recent years, but the brushed-up blonde pixie with brown roots showing for the 2014 Billboard Music Awards combined favorably with deep-crimson lipstick.
Miley Cyrus is in fact a very pretty young icon but frankly, whoever essayed the severely short peroxide blonde version of Will Smith's Fresh Prince-era barnett did her no favors. Still, the dramatic look to chop off her much-copied dip-dyed bob for a blonde quiff at the MTV Video Music Awards added to the shock value of her "Twerkin'" performance.
Disaster almost came to the ball with the sheer weight of Miley's golden plait appearing to pull her down and put her at risk of a neck injury; this pretty style of plaited but otherwise unruly locks was understated, young and elegant. The very next day, she was into rainbow hair and followed that with a platinum blonde equine ponytail which did not suit her at all. Things bounced back with longer-than-long rapunzel +brunette locks.
The Latest, More Placid Looks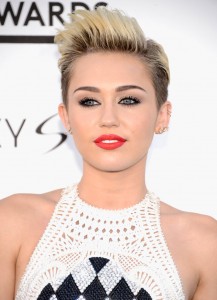 In December 2013, Miley went for a short medium bob and cropped fringe. Early in 2014, she experimented with a Dumb and Dumber bowl cut for hanging with fellow musicians. A two-toned construction of peroxide and brunette, it was universally panned. For an appearance in January on The Tonight Show With Jay Leno, Miley Cyrus appeared in a totally blonde and voluminous quiff. This was preceded by a platinum pixie crop.
In this year's Met Gala, Miley Cyrus appears to have settled down with hair dyed turquoise and a fashion forward wet look finish to ultra-plastered down short hair swept behind the ears. It is a laid-back cut that perhaps signals the end of her turbulent performances.
In another red carpet appearance, Miley essayed the painless slicked-back pixie crop in her trademark natural brunette, blood-red lipstick and plain black dress to make for a dramatic red carpet look.
Miley Cyrus has many flexible ideas about dressing up her rich tresses. She is neither as daring nor effective, however, as Pink with the latter's dozens of glamorous hairstyles.