Her name, Kim Kardashian, is synonymous with glamour. She is a favorite cover girl of many magazines and the papparazzi loves her. It is for all these reasons she always has to keep herself groomed and well dressed. Her appeal affects everyone from all walks of life. She knows very well that she is being followed by many that is why she makes sure that is well presented every moment she steps out of her home.
Kim is always well-polished from head to foot, and many are following her style. With her style, she never forgets to make sure that she also takes care of her nails. But unlike other celebrities who love wearing loud colors and long and ever-changing nail designs, Kim just want her nail designs simple yet attractive.
Below are the most popular Kim Kardashian nail styles:
Shape
Color
Design

Nails

Almond
Nude
No
Coffin
Nude
No
Round
Nude
No
Squared
Black
No
Squared
Red
No
Almond
Gold
No
Squared
Gold
Yes (Textured Gold)
Squared
Black/Gold
Yes (Gold Lines)
Tip No. 1: Keep a file wherever you go.
Kim visits a nail salon regularly, but she admits that she does the filing herself because she wants her nails perfectly square. In fact, she carries a file everywhere she goes. She also admits that she is nervous whenever her manicurist is not available, and she has to be serviced by another person because she might end up offending her if she does the filing herself. According to one expert nail technician, it is fine to do the shaping other fix yourself just make sure you know how to prevent breakage. Filing the sides of the nails when it is not yet long enough can weaken the nails.
Tip No. 2: Try to wear super long nails in names on some important occasions.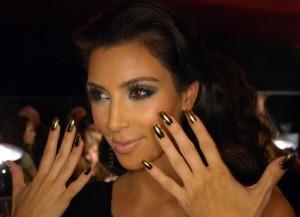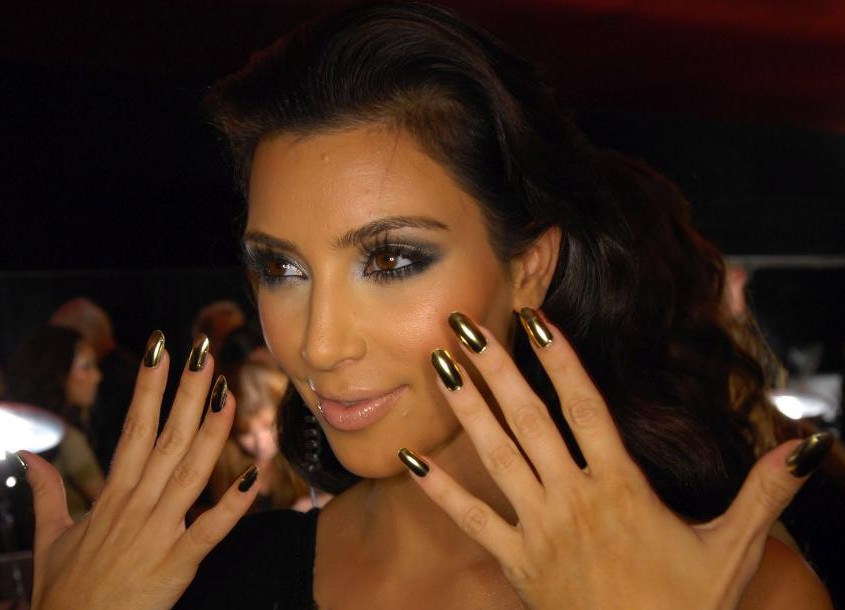 Although she is always expected to wear a short French manicure, there are events where she surprises everybody because of her super long nails with nude polish. In Paris Fashion Week, she showed off and made a risk in wearing long nails. Experts say that you have to have patience if you wish to wear long nails. To achieve a Kardashian clean look, wear a nude nail polish because it looks naked yet, no one can tell if it cracks.
Tip No. 3: Try acrylic nail extension.
If you cannot wait for your nails to grow long, you may opt to acrylic. With acrylic extensions, your nails can still be strong, and you can still do a lot of things like opening cans. You can also change the shape as well as the colors and design to whatever you like. Kim also tried her acrylic nail treatments but decided just to keep it natural and short in the long run as she cannot handle long nails.
Tip No. 4: Take a Break from piano lessons.
If you have long nails, you have to take a break from many activities like typing, texting and, for the reality show queen, taking piano lessons. So, even if she wants to impress her hubby, she has to stop because she might break her long nails. Indeed, lengthy nails can either make or break you. Long and properly polished nails are always stunning but to keep it long, you need to stop doing things that you used to. She admitted in one of her Tweets that it is not her thing because she cannot do anything. She cannot even put her necklace. She felt annoyed about it.
Tip No. 5: Try rainbow colors.
There are seasons that Kim changes love changing the color of her polish. She wants it short and bright. It is her thing when she attended the Kids' Choice Awards where she showed off her vibrant coral orange polish.
Tip No. 6: Keep it bare if you are pregnant.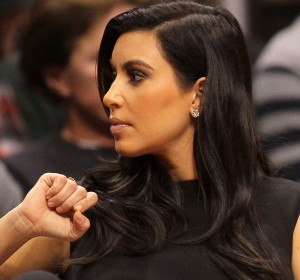 Keep everything in basic including your nails because nude nails are still the safest manicure for pregnant women. She keeps herself and her baby from toxic effects of the chemicals in nail polish. She has been reading books, and one of the advice she got is to stay away from harmful chemicals while pregnant including makeup and nail polish. She listens, and she makes sure to stay away from them all together for the baby.
Tip No. 7: Wear nude nail polish if you are to wear your engagement ring too.
If you are to wear your engagement ring, make sure that it is not too loud to cover the beauty of a gigantic diamond ring. Kim knows this and makes sure that she projects Kanye West's gift other than her hand and nails. In photos, instead of checking the color of her nail polish, she was successful in showing them how enormous her engagement ring is. It is a good thing that Kim is not used to wearing very bright or loud color in her nails; she just wants it sweet, nude and simple.