Kim Kardashian Hairstyles
Before her "bob reveal" Kim K sported a few other hairstyles that went from simple super straight hair down to much edgier blunt cut styles.
Check out the best Kim Kardashian hairstyles and decide which one best complemented her superstar vibe. If you're looking for inspiration for your own hairstyle, then read on.
Below are the top 15 most popular Kim Kardashian hairstyles:
Hairstyle
Rating

Hairstyles

The High Pony
6.0
Middle Part
6.5
Full Hair with Mini Side Braids
7.0
Long Braided Ponytail
6.5
High Top Knot
5.5
Straight with Bangs
7.0
Sleek Long Hair with Braided Head Band
7.0
Long Wavy Hair Cut
6.5
Retro Curls
7.5
Braided and Bangs
6.5
Twisted Headband Updo
6.0
French Braid Pigtails
7.5
Classic Silky Bun
5.5
Layered Blond Locks
6.5
Textured Shoulder
7.0
The High Pony
This is probably Kim's signature look as it is obviously her favorite. Flyaways are tamed to create a neat, sophisticated look. Though it is simple, this hairstyle went with most of her red carpet appearances.
Full Hair with Mini Side Braids
Kim certainly knows how to look girly and sexy at the same time. With this hairstyle, her locks are blown to full perfection for added volume and a few mini side braids here and there create a cute but sexy appeal.
Middle Part
Another of Kim K's notable hairstyles is her middle parted hair finished off with a tiny zig-zag. She goes outdoors with it, often when with her family enjoying the beach. It is simple, classy, but done so with an edge.
Long Braided Ponytail
With her long locks, Kim can sport a long braid without a problem. Her hair is teased at the front to have some volume and height then off with the single braid 'do.
High Top Knot
For an elegant look day or night, Kim K is sometimes spotted with a simple high top knot. A messy yet sexy look is achieved with a few stray hair.
Straight with Bangs
Kim's edgier self often shows with a bang. She looked ultra- fierce with a super straight hair and bangs. Her make-up artist also knows how to make it work by painting her with edgier make-up.
Sleek Long Hair with Braided Head Band
Mini braids as a head band is a cute upgrade to Kim's sleek and shiny locks. The style itself is a statement as it shows how creative she can be when it comes to fashion. This goes with her signature smoky eyes and long lashes.
Long Wavy Hair Cut
Elegance can be achieved with a simple hair style. Kim can go away with an effortless wavy hair done using a big barreled hair iron. She is an epitome of sophistication whenever she wears nicely- cut dresses with this hairstyle.
Retro Curls
Who says Kim can't rock curls? She does so with a retro style big curls that makes her beauty timeless. This looks fab with period events where her hair can shine on its own.
Braided and Bangs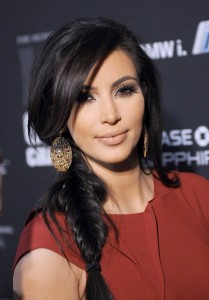 A fishtail braid with side bangs is a simple yet very nice touch whenever Kim opts for a fresh look. This makes her appealing not only to the adults but to children as well because of the popular Disney character who also sports the same hairstyle.
Twisted Headband Updo
For some glamorous events, Kim chooses to go all the way with complicated updos. An intricate twisted headband hairstyle complements lavish gowns specifically made for her on different occasions. Her hairstylist should be given credit because her glam levels shoots up whenever she has this style.
French Braid Pigtails
Anyone should be warned with the overload of sweetness from Kim's cool and girly French fishtail divided into pigtails. Done ever so carefully so no hair stray can be found anywhere. It surely looked fab on her whether out on a walk or when lounging at the park grounds.
Classic Silky Bun
Kim Kardashian hairstyles won't be complete without the classic bun. Her silky hair is tamed to perfection with a tight bun that is free from any stray hairs. She often pairs this look up with statement earrings that are either too fancy or too edgy.
Layered Blond Locks
You should not be surprised when you see a blond Kim K in the corner. She sometimes goes for a layered blond hair which complements her honey skin so well. This shows that she can either be blond or dark haired but still manage to look good at all times.
Textured Shoulder
Length Bob. Finally, the much talked- about bob in social media. Hair stylist Gregory Russell spoke about how Kim looked for several different short hairstyles until she finally decided on a shoulder- length haircut.
If you were among those who got the shock of their lives when Kim showed up at the Grammy's with a much shorter hair, fret not. She may have lost a huge chunk of her gorgeously long locks but Kim K is Kim K. Even without her long hair, she can outshine any other star as she is a total package when it comes to beauty and fashion. She certainly knows what she is doing and is probably thinking of new and creative Kim Kardashian hairstyles suitable for her short hair.