Katy Perry Nails This website is not associated with Katy Perry
This year has been a surprising and blissful year for Katy Perry. Besides being the highest paid entertainer of the year, she and her Katy Perry nails have been voted as the top most stylish manicure among celebrities. Katy's style has always been quirky, versatile and bold so this is probably where she takes her cue when it comes to picking her nail designs.
Kimmie Kyees, the LA-based celebrity manicurist, has painted many celebrity nails which includes Rihanna, Ke$ha and Katy. During the MTV European Music Awards, she painted Katy's nails with red. She explains, "Katy was looking for a classic look so she wanted a great red. It really complemented her fabulous makeup as well."
As Katy loves to get creative with her tips, hiring Kyees is the best decision she ever did as they both have the passion for art and mixing it up. Knees adds, "Negative space is a big trend I'm loving. It's super easy and can be customized, particularly the inverted V-mani or half moon."
With so many different designs to choose from, Katy Perry nails will definitely be the most popular nail trend today. Here is a list of the top 5 that made her land the number one spot in the most stylish manicures.
Below are the most popular Katy Perry nails styles:
Shape
Color
Design

Nails

Squared
Black
No
Squared
Silver
Yes (Glitter)
Round
Red
No
Squared
Blue French Tips
Yes (Glitter)
Almond
Gold
Yes (Gold and Gem Stones)
Rounded
Yellow
No
Almond
Red
Yes (Various)
Round
Multi-Colored
Yes (People Heads)
Round
White/Black
Yes (Polka Dots)
Black, Pierced and Squared Tips
Katy is not afraid to show her dark side as she has proudly demonstrated in her song "Dark Horse". During the 'China: Through The Looking Glass' Costume Institute Benefit Gala at the MET last May 4, 2015, she had her tips painted matte black with piercings to indicate the name MOSCHINO, a brand that she is known to endorse.
To re-create the look, you definitely need to get acrylic nails because piercing your real nails will create major damages.
All Blissed Out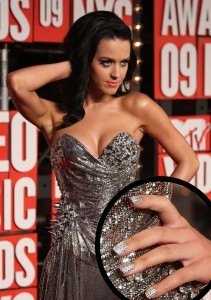 The nail art Katy showed in her 'Birthday' music video has inspired many of her fans to create a version of their own. The colourful and cute manicure style boasts of bows, studs, bling, and several writings which might be the reason why people love it.
To copy the style, you can use an OPI Sparkle-icious for an inspired look if you think you can't do anything with all those embellishments.
Keep It Short and Simple
Last February 1, Katy Perry wowed the crowd with her amazing performance during the Super Bowl halftime and what more, she was sporting a very chic, red nails. Her manicurist, Kyees, made her nails short and in-theme with her red lips. It was the most elegant nail design Katy has ever worn.
To re-create the style, you can opt for a very red or cherry red color, like that of CoverGirl. Make sure that your tips are cut short and filed properly to exude a very clean and sophisticated look. Other colors that can make a statement are glossy black, bright yellow, and hot pink.
French Tips with a Twist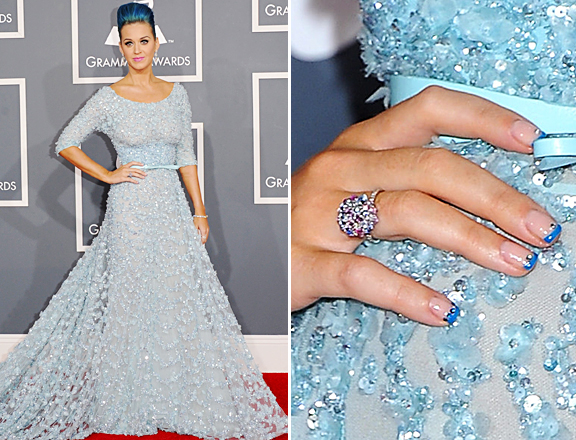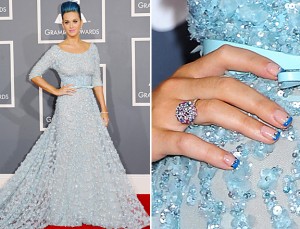 Katy loves adding her own style in old classics like the French manicure. But, unlike the usual combination of pink and white tips or nude and white tips, Katy has used a colourless base then added different colors as tips. For examples, the neon yellow french tips she donned at the MOCA's 35th Anniversary Gala by Louis Vuitton last March 29, 2014 and her 'red and blue' french tips during the in tribute to the American flag.
Furthermore, she has also stretched the use of the french tips and has decided to outline the whole outer area of the nails, just like what she did in her 'Dark Horse' music video. She has used a sky blue base and a black polish to outline her nails.
There was also a time when she used an inverted french tip version for her toes. She has used nude or soft beige for the base, white for the half moon or inverted french tips, and she has added a blue dot in the middle. This was made by Maybelline New York Nail Expert Michelle Humphrey and was a crowd pleaser as well.
Pure Polish With Graffiti
Katy might have used a pure polish once or twice but in cases where she really had to do it, a picture or graffiti will often be used as a design. During her Super Bowl performance, she has painted her toenails to look like footballs. She has used a nude base and white for the graffiti.
Katy Perry sure knows how to make a simple style stand out by adding her personal touch. Brands like OPI have created a special collection for Katy to highlight how influential her Katy Perry nails are. Maybe, on your next visit to a mani-pedi salon, you can add a little more attitude to your nail designs to channel your inner Katy Perry.