Katy Perry's hairstyles have taken a life of their own. Every award show, it seems that she brings two personalities with her: her own and that of her chameleon-like hair. It has been short, long, blue and even lime green
The first time we saw Katy Perry, she was the sweet girl who wins Travis McCoy's heart at the end of the Cupid's Chokehold Music Video by Gym Class Heroes. That was in 2006. Little did we know that she was soon to burst out as a musical sensation with a penchant for sometimes quirky but always stylish hair-dos.
Unknown to a lot of people, Katy Perry is a natural blonde, but she switched from blonde to black and has never looked back. Which suits her, as it adds an air of mystery to her bubbly personality. Worn long or short, she always uses her hair to make a statement. What follows is a compilation of some of her looks over the years.
Below are the most popular Katy Perry hairstyles:
Hairstyle
Rating

Hairstyles

Simply Natural
6.0
Bangs
7.0
Old Hollywood
7.0
Blue Wig
5.0
Streaks of Color
8.0
Copper
7.5
Back To Basics
6.5
Lavender Pink
8.0
No Wig Blue
7.5
High Ponytail
6.5
Simply Natural
At the start of her successful career, Katy Perry dyed her hair a raven black. In August, 2006 she wore it as simple locks pushed back from her face. It is a look that lets natural beauty shine through, and allows her bright blue eyes to shine through.
High Ponytail
At the 2013 MTV Video Music Awards, Katy Perry went back to her raven colored hair, but not one to stick to the norm she added a flair by slicking it all back and wearing it in a high pony. This is a look that declares boldness. Paired with a pantsuit it screams power, but worn with a leopard print dress like Katy Perry it lets you roar while you are out with the girls.
In January, 2015 she was spotted at the Fashion Los Angeles Awards with her hair cut short in a messy bob dyed a dark purple. Katy Perry's hairstyles are forever going to provide as much enchantment as the singer herself. Find inspiration in her bold choices and be a dark horse.
Bangs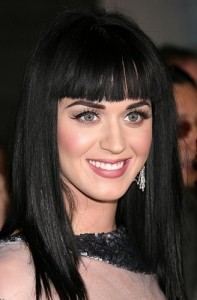 In 2008, Katy Perry took her first foray in switching her look. She was spotted at the 102.7 KIIS FM Jingle Ball with bangs and her hair straight down to her shoulders. Paired with an embroidered red dress, minimal jewelry, smoky eye shadow and dark eyeliner her look said that she was here to stay.
Old Hollywood
At the February 2009 Grammy Awards, Katy Perry showed up with a bob reminiscent of retro red carpet events. The bob comprised loose ringlets swept away from her face. Paired with nude lipstick and crystal encrusted jewelry, the look was stylish and one for the books.
Blue Wig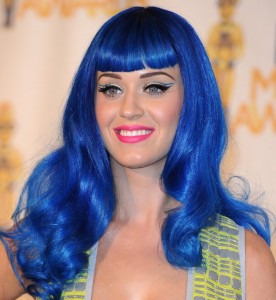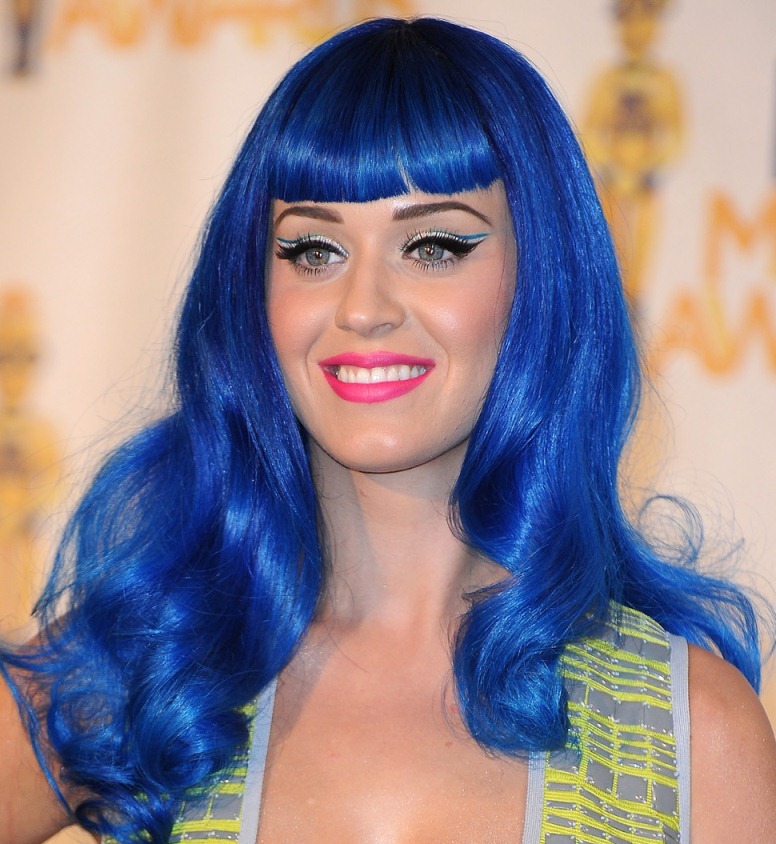 Nothing says fearless like a neon blue wig, complete with bangs. At the June, 2010 MTV movie awards, Katy Perry rocked this look with a sparkling dress and it was in keeping with the theme of the MMAs, which are always very playful. It is also the first time we got a glimpse of how playful Katy could be with her hair.
Streaks of Color
Unable to ditch the color fever, Katy attended the September, 2010 MTV music video awards with strands of blue, pink and purple in her voluminous hair held in generous waves falling to her shoulders. Next time you want to update your look, but do not want a complete overhaul you can add a few strands of color. It is refreshing and fun.
Copper
In June, 2011 Katy Perry's hairstyle bouncy shoulder length curls in a copper hue. She says it was an accident as she attempted to revert back to her natural blonde. All accidents should turn out so wonderfully. She was a redhead for a very brief three weeks, but it was a very sophisticated look despite being accidental.
Back To Basics
The next month Katy regained a semblance of her original blonde hair, still with a coppery tinge but gorgeous nevertheless. This look can be achieved by using gradients of blonde. With the roots being a lighter blonde and minor shift towards the tips where they are a deeper coppery shade. It is a look with character, and you get to play for both team redhead and blonde.
Lavender Pink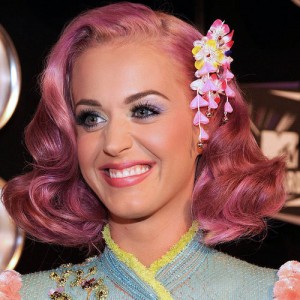 In August, 2011 Katy Perry now proving that she cannot stick with one color for too long was spotted with bright lavender hair. 5 months later, she lightened the shade to a very pale pink and cut her hair down to a very chic bob, allowing her to tread the line between high fashion and low fashion.
No Wig
Remember that neon blue wig from 2010? Katy missed it and this time she dyed her hair the same color. In February, 2012 she debuted the look with an asymmetric bob. In April with her hair full grown she switched to a light purple shade with black roots.