Beyonce is always on the top of the list for the most influential artist worldwide. Her influence has not only affected the world of fashion and music but incredibly, has also broaden to the small world of nail art and design. 'Beyonce nails' is the latest trend that has everyone going crazy for monochromatic colors and almond-shaped nails.
Lisa Logan, Queen B's long-time manicurist says, "When it comes to Beyonces, you have got to be prepared for the unexpected. She wants to keep it clean, subtly sexy and still classic since she is always performing. She loves to make an impact no matter what."
The manicurist is referring to how the award-winning singer will sometimes choose to go long and simple or short yet elegant when it comes to her nail designs. Although Beyonce changes her nail color and nail length often, her nail style and nail shape remain to be monochromatic and simple. The Queen B makes sure that she continues to incorporate her classic style even to her Beyonce nails, which means you will not see too much decoration on her nails.
Below are the most popular Beyonce nail styles:
Shape
Color
Design

Nails

Almond
Peach
No
Almond
Glossy Black
No
Stiletto
Gold
No
Almond
Nude
No
Almond
Orange/Pink
No
Almond
Green/Pink
No
Almond
Dark Red
No
Stiletto
Red/Pink
No
Almond-Shaped or Round-Shaped Nails
Beyonce's nail shape has always been almond when long or round when short. Whether she's performing, attending (and winning!) music awards, or just hanging with her husband Jay-Z and daughter Blue Ivy, you will never see her change her nail shape. It is the best expression of how classical and elegant the Queen B's fashion sense really is.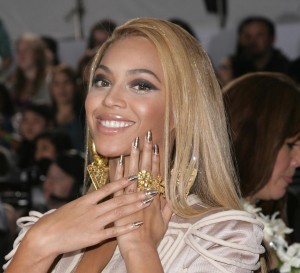 To re-create the look, it is best to keep your nails long and clean. No need to file as you are trying to achieve a natural look. Before you try this, however, make sure that your nails are strong to avoid it going brittle or easy to chip.
Peach-Colored and Almond-Shaped Nails
During a shopping trip in New York last May 20, 2015, Beyonce was spotted with peach nails. It was so chic and simple that everyone within visual distance can't help but take a photo of the perfect manicure.
She has previously done this look last 2011 at Glastonbury but with a more tonal hue like red orange. She completed the look in true Queen B fashion with an almond filed finish.
To re-create the style, choose a more subtle peach from the shades offered by L'Oreal, Formula X or Sephora. Keep nails clean and without additional bling.
Pure Polish and Almond-Shaped Nails
As tribute to her signature style, Beyonce has opted for pure polish of glossy black and a perfect almond-shaped nails. Simple yet very elegant, just like the Queen B herself.
She has always been a fan of the pure polish look – from the Judo Red by Victoria, Victoria Beckham x Nails Inc last 2015 Tidal music stream event to even her own wedding, where her something blue was her nails.
In order to re-create this style, look for a nail polish that can stand on its own without the need for embellishment.
The Superbowl Tribute
During the 2013 Superbowl weekend, where Beyonce performed magnificently at halftime, everyone was going crazy not just because of her energizing performance, but also because of her hot gold chevron nails. Lisa Logan, Beyonce's manicurist, created the look by using Gold and Matte Gold Chevron Minx
To re-create the design, you can opt for a more glossy gold color and by using nail decals, you can add the chevron-inspired look.
Nude and Elegant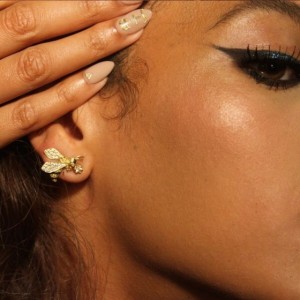 During the 2015 Grammy Awards last February 8, everyone was stunned by the simplicity yet extreme elegance of Beyonce's nude tips. She has chosen a nude polish because it will effortlessly compliment her two looks for the night – a black Proenza Schouler gown that flaunted her cleavage for the red carpet and an all-white ensemble that boasted her flawless skin and perfect beach waves for her performance of 'Take My Hand, Precious Lord' and 'Glory'.
Beyonce has also used this style to honor her marriage to Jay-Z by sporting a nude pure polish look with J+B embellishment in gold. As expected from the Queen B, she can make anything look trendy but with her classic twist on it.
To re-create these looks, look for a nude nail polish that can flatter your skin tone. A fair sheer pink from Sally Hansen or Estee Lauder Pure Color Nail Lacquer, a fair creamy blush. If you wish to put embellishment, keep it simple by choosing letters or shapes that are just the right size to fit one of your fingernails.
Due to the popularity and influence of the Beyonce nails, many nail polish brands like NCLA have collaborated with the diva to help fans and nail aficionados to embody their inner Beyonce. Always remember to keep it simple, elegant and classy as these are the true signature of Queen B.