Beyonce Hairstyles This website is not associated with Beyonce
There's no denying it, Queen Bey is not only fierce on stage, she dominates the style scene as well.
With her keen fashion sense, everyone can't help but watch in awe as she goes from style to style each and every season. But it's not only the designer clothes and lavish costume changes that make her shine both onstage and in real life.
Below are the most popular Beyonce hairstyles:
Hairstyle
Rating

Hairstyles

Super High Ponytail
6.5
Simple Mermaid Waves
6.5
Ombre Waves
5.5
Messy Tousled Center
6.0
Voluminous Long Curls
7.5
Straight Haircut with Side Bangs
7.0
Straight Layers
6.5
Classic Braided Bun
7.0
Blond Curls
6.5
Center
5.5
Curly Ponytail
5.5
Rock Star Hair Knot
6.5
Classic Hair Knot
4.5
Mega Bun
5.5
Long Braid
6.5
Simple Mermaid Waves
Bey really knows when to let down her lovely locks. The recent Grammy's had her sashaying in a black embellished gown with her splendid mermaid waves. The simple style may make her more human but it somehow added immortal elegance to her look.
Ombre Waves
When ombre became a hit last year, Beyonce worked it up with her waves and opted for a glam look by having sparkly lippies and tons of mascara at the Billboard Women in Music Luncheon. An exaggerated look is avoided by gently blowing back the hair off the face. This resulted in a natural ombre hairstyle that complemented Beyonce's sun-kissed skin.
Super High Ponytail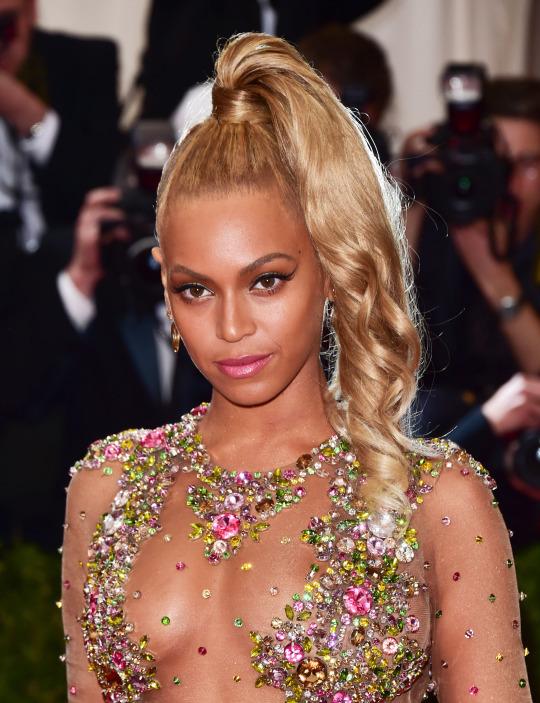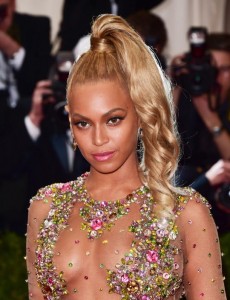 Clearly nothing is ever typical for the queen. Even with a ponytail hair style, the higher it is the prettier she becomes. Beyonce is beyond ethereal with her gorgeous sheer gown, a feline make- up and a super high ponytail at the Met Gala. To get this look, wrap some hair at the base of the pony tail to cover the elastic band.
Messy Tousled Center
Parted Long Hair. For her down times that are often spent walking around town and in parks, Beyonce sports her long hair with a messily tousled center- part style. The messy effect is done with a hair gel creating an effortless style.
Voluminous Long Curls
If there's one thing that defines Queen Bey's locks it would be her big, curly hair. She instantly becomes a stunner with every party where she has her curls added with so much volume. It is a fierce style that is in contrast with her cute face but nevertheless make her look stunning.
Straight Haircut with Side Bangs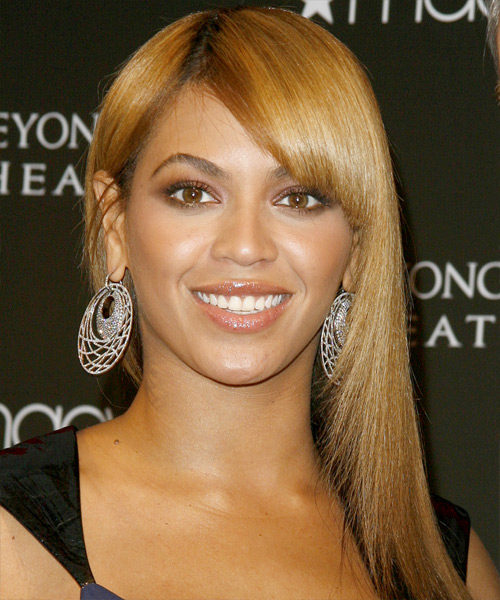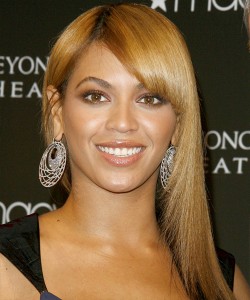 Though she gets most of the attention with a curly style, Beyonce could surprise everyone whenever she goes for a simple, straight haircut. It makes her look softer when added with side bangs.
Straight Layers
Another noteworthy among Beyonce hairstyles is her signature romantic straight layers. It is simple, layered, parted at the side, and are swept on the front. This style looks sleek and always makes her a tad prettier. Anyone can also follow this hairstyle as this would look great with any face shape.
Classic Braided Bun
For her rather formal commitments, Bey sometimes goes for an elegant braided bun. A braid that is secured in a bun and arranged on the nape does not take so much skill to do but surely takes gorgeousness level a notch higher.
Blond Curls
Whenever Beyonce sports a blond hair, she instantly looks radiant and more vibrant. This versatile hairstyle gives her an exquisite and glowing aura.
Center
Parted Long Curls. Beyonce always looks amazing with big, curly hair. Copper curls immediately add volume and texture making Bey look sassy and sweet.
Curly Ponytail
A fantastic red carpet style for the Queen Bey. It is a low ponytail with the tail curled so subtly with a curling iron. This fab hairstyle always goes perfect with her elegant gowns.
Rock Star Hair Knot
For a rebellious look, nothing could go wrong with a rock star hair knot. Beyonce may look rebellious in it but in a good way since it gives her a chic and rock star aura.
Classic Hair Knot
The rebellious knot can have a completely different vibe with a classic knot and when the knot is done slightly messy, it will automatically lessen age and with Beyonce's case, gave her a naughty vibe.
Mega Bun
Only Beyonce could get away with a supersized mega bun for a hairstyle. Sprinkled with texturizer, teased and pinned in place, this look is one of her signature red carpet looks. A variation of it with braided hair at the base of the bun is also looked as lovely.
Long Braid
Who couldn't resist sporting a Disney inspired braided long hair? Beyonce surely could not and had a tightly braided hair that's tousled and finished off with a curled fringe. It is a trendy look that also made her look vibrant with her highlights.
There you have it, 15 Beyonce hairstyles that are worthy to be appreciated and become a source of inspiration. With her stature, Beyonce rocked all hairstyles with class and elegance. Her hair evolution that went from simple classic cuts to vibrantly fierce styles clearly defined her stardom.