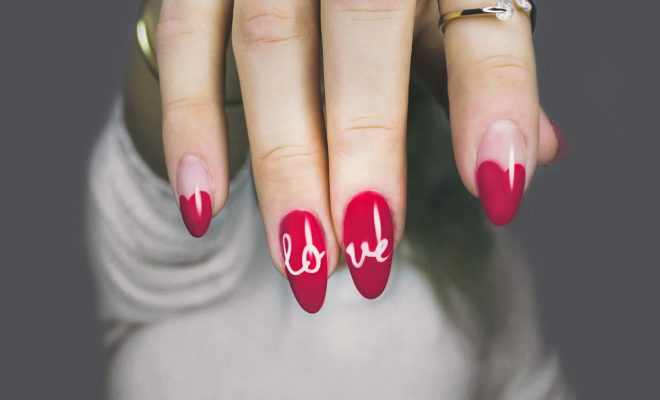 Nail Tips
3 Quick Alternatives to Gel Mani-Pedis
By
|
Today's health crisis can really put a damper on a lot of folks nail situations. Lots of places are still keeping their salons closed in efforts to stymie the spread of the infection. However, months of having bland nails can take a toll on many people.
So what should you do if your local LA Nails or Happy Nails can't offer you their services yet? You can always try doing your nails on your own. It might not turn out to be as fabulous and long-lasting as your favorite nail technician's work but at least your nails won't look naked, right? 
Since not everyone can work with gel nail polish at home without shelling out some serious cash and exerting a lot of effort to learn the process, there are a few nice alternatives that you can try:
Nail decals
These are possibly some of the easiest ways to jazz up your nails since they're just stickers. All you'll need to do is to paint your nails with a base coat, stick them on, trim if necessary, and then apply two layers of top coat to seal the design in. The process shouldn't take you hours if you're quite skilled.
The fun thing about nail decals is that they come in so many different designs. You can find actual stickers with different prints. You can even find businesses that will allow you to customize your own decals if you like, so that's worth a try. There are also lots of stickers that are perfect for adding unique details to regular mani-pedi, so they're also very exciting.
Remember, however, that you will need some tools for using nail decals on your own. Aside from the stickers, make sure to have some tweezers and a silicone tool. Orange sticks are not recommended to be used for this method as they can scratch and damage the stickers.
Press-on nails
Like nail decals, press-on nails are also easy alternatives to traditional nail polish manicure. They practically have the same basic idea: by sticking something on the surface of the nails, you can get a quick solution to naked nails. However, press-on nails can get more elaborate than nail decals and can also alter the shape and length of your nails in a flash.
Don't be intimidated by press-on nails, though. They may seem daunting and complex but they're not that difficult to work with. You will still need to have a certain degree of dexterity but you don't need to be an expert to put them on.
The most important things to remember, however, are the following:
Be particular about the shape and size.
First off, make sure that the shape is according to your preference. Dashing Diva tends to offer shorter and rounder nails so they look more natural. Marmalade Nails, on the other hand, offer bolder choices.
Press-on nails also come in different measurements. Be careful in choosing the right one for you so you can actually use them. Make sure to check out a brand's sizing guide before purchasing.
Prep your nails properly.
To ensure that your fake nails will stick to your actual nails, prepare them properly. Push your cuticles down and remove the oils by wiping them down with an alcohol prep pad. Some kits come with their own but you can also just use a cotton pad dampened with alcohol.
Once done, you can apply a base coat on your nails so the fake nails won't stick directly to your nail bed. This promises a safer removal.
Get some good glue.
Most kits come with double sided tapes but they may not be strong enough to keep your press-on nails in place. Use some good nail glue instead.
File down your fake nails.
Make your press-on nails look more natural, file them down. You can do this before or after pressing them on, it depends on your preference.
To ensure that your fake nails will stay in place for as long as possible, avoid soaking them in hot water for at least 24 hours after sticking them on.
Faux Gel Mani Kits
If you're willing to actually paint your nails on your own, you can still replicate something that looks a bit like gel nail polish. They can also last quite long. These kits are usually specially designed base and top coat sets that are meant to be used with regular lacquer.
Their formula effectively seals the lacquer and provides a strong outer layer so the color can last a while. They're also great to have at home because they can help you touch up gel manis in between appointments.
With these products, even if you can't really head to your favorite nail salon, you can still easily jazz up your nails without too much fuss.